Falling in love is one of the most amazing feeling that every human being is entitled to possess. It makes you have a reason to smile, to wake up every morning and to most of us, it gives hope and strength to live another day. Waking up to a feeling of being in love is a once-in-a-lifetime experience since it is speculated that everyone has asoulmate, every Adam has an Eve somewhere, that simply means we get to have that once. You get to fall in lovefor real once and if you misuse that chance you could never get it back ever.
Famous artist and songwriter Ed Sheeran once said that "people fall in love in mysterious ways". Those that arevery lucky get to have love at first sight, others get to have the friendship first then fall in love, others get to meet, get to know each other then eventualy fall in love and, others first have intercourse. I am one of the few luckypeople who got to try all the mysterious ways of falling in love but my personal favorite is love at first sight. Love,at first sight, is magical because only supernatural feelings can enable one to fall in love with someone they know nothing about. Am the kind of girl who believes whatever her heart tells her and that's how foolishly I havemanaged to get my heart broken every single time.
Others call it being naive. I have been naïve all these years and it has taken me nowhere except to give my heart tothe people that don't deserve it. After learning some lessons I decided to leave relationships and love for some time until I met Justin.We met on a blind date. It was all planned by our friends who thought we matched…thosematchmakers! We got each other's numbers from the group and started talking, he was so sweet to me and I wouldbe lying if I said I didn't like him there and then. I couldn't wait to meet him… and him too, because we secretly plotted to meet without our friends knowing since they insisted we meet on my birthday, by the way, which washis birthday too `cause we shared the birthmonth! Isn't that romantic? That night before we met he wrote to me… "am realy falling for you deep mia, I don't know about you but you tick all the boxes am just left to confirm everything when I finaly see you tommrow."

Those words stuck with me the whole night and I swore tooth and nail to see him. When I was about to enter theroom, I was supposed to meet him, he was standing by the door `cause I presume he heard me approach or if nothe was peeping somewhere (excited). "You`re welcome," he said. Meanwhile, I was trying to act like I wasn'tnervous and ended up blushing. He opened his arms and gestured me to enter his teritory. He was unexpectedly talland I would be lying if I said that wasn't enough. Meeting a tall guy who liked me and I liked him back was sorare for me `cause am literaly taller than most boys (proud of my height), on top of that, he had the small kindaglitery eyes that gave him a natural, nice-looking face combined with his atractive and seductive smile thatexposed his teeth which were aligned so perfectly one would think someone aranged them.
Call it exaggeration but the guy was physically my dream guy except for the beard. (enough with the obsession)we sat, said the formal greetings then no one else mattered other than us. Everyone got to talk about themselvesand like the soulmates, we had a lot in common: we were both June babies, we were also still schooling, we likedthe same songs (he was a producer but still had an amazing voice, even when he was talking), same stars, hatedmariage and everything else. At this point I realy dint want to waste any time, I wanted to kiss him. I wanted toknow how those lips produce a very soothing sound, if they tasted great and to my surprise, his lips tasted evenbeter than his singing.
I kissed him and he pulled me closer and closer until I was on top of him. His hands moved slowly on my bodydownwards till he grabbed my tiny ass. Then I wokeup… yeah, it was all in a dream! There is no love in real life,we only get to taste a bit of it when we have just met those we love, the excitement, the late-night texts, thesurprises the flirting, it all ends in utmost a month and you will never have it ever again unless u meet someonenew that your heart chooses. In real life love is not equal, it's either u love them or they love you but not both ofyou love each other or you love them but they love someone else and vice versa. My only message to you is to giveup on looking for love and focus on searching for the real things that matter. Things like money and taking care ofyour family and also… the forgiveness from your God. Amen
Author Profile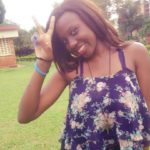 Ketra N Kisitu is a Student of journalism and mass communication at Kampala International University, an inspired writer and novelist