Now,I am in a relationship with two guys.Not the kind of thing I'm normally intobut,it's this irresponsible karmahaving her way with me. All this happened to me because I'm not good at choosing. I guess my heart is so soft, or rather, it's just so ill-advised; by me!
All of this started when I met Sean Wild. This name continuously echoes through my head lately because I'm so used to his presence in my life. Every time I hear someone say it, my heart kind of skips a bit; I swear I'm not making anything up! If I had never fallen in love before, I would have concluded that Sean had done something odd to make me feel this way about him.
It was a Wednesday and I had met up with my boyfriend, Wyatt – who is now my ex – to clear up some mistakes between us. By then, Wyatt and I were always fighting because he had trust issues. He never trusted me for the entire year and a half we were together. I know that because he was always checking my messages, call logs, forbidding me from seeing some boy-friends I had because he claimed he didn't trust them with me; that and all the fucked up shit jealous partners do.

So, that day we met up to solve another thing; this time I was very annoyed with his arrogant behavior so I told him exactly how I felt about it.
'I'm sorry sweetheart' is all that it took – only those words – to make me forget his garbage; as usual!
I always thought that our love was stronger than all our differences. That's why I always tried to put everything aside and put our love first. But, he always made it a point to ruin everything.
As we were unraveling, Bree called and told me about a friend who had invited her to a club for a few drinks but she didn't want to go alone. Wyatt gave me a "NO" look, which I snubbed. I needed a break to calm my mind so I accepted to meet her in town. We argued about that too but I triumphed in the end. My victory was conditioned on going with him to town to see whether I was really meeting up with Bree. That did it! After he had said that, I convinced myself that Wyatt will never ever change.
"Wow, Wyatt you look good these days" Bree complemented. I personally didn't see how Wyatt was looking good; speaking honestly, he was looking more and more faded because things weren't all good in his life lately. He had money troubles and unlike most of the boyfriends I had in the past, Wyatt's family wasn't the type you would wish to have (sorry to say). By the time I met him he was residing alone and that made me proud to have a fellow who rented at the age of 22. Yet, when I got to know the real reason why he was actually staying alone, I felt so bad. It was a sad story and – being a sucker that I am – I think that made me love him even more.
"I think you guys should get going because it's getting late and you need to be home early" Wyatt said. I glanced at my phone to check the time and it was already coming to 10pm. We said our farewells and as soon as we had departed with Wyatt, Bree and I decided it was better to just cancel that night given the fact that it was getting late. Also we weren't sure of where we were exactly going. So she and I decided to part since we weren't staying together then. Weirdly, as I was just about to get a boda, Bree called and said Sean insisted we go and that he was sure we won't get lost.
Honestly speaking I didn't want to go home yet and given the fact that it had been roughly a month since I had last gone out, because of school, I badly needed this night to myself.
The place looked so stylish that I nearly embarrassed myself by staring at girls putting on insufficient pieces of clothes that left little to be imagined. The place was simple and elegant, yet crazy at the same time. The dudes were dressed in unplanned clothes which bought me to an assumption that it being a Wednesday, they probably didn't get time to change.
"What will u have?" said a guy that Sean had apparently told to pick us outside.
"Smirnoff" I replied.
As usual, Bree would have the same. Though, I've never understood the logic behind this because most times, she dislikes what I take.
As I was still wondering, the night was clearly just starting because the place had the best DJ. The music was on point and that only pushed me to go wild. The playlist had hits from Fire Boy, Justin Bieber, Kenzo, Joe boy and the like.
After a few rounds of booze I marched to the dance floor to get the party started and, for the record, that was my first time to do so. When I started moving my body and hitting some killer moves, my sister was impressed enough to get hyped. After a while, we sat and that's when I remembered that the so-called Sean wilder that had rushed us there hadn't arrived yet. It was nearly 1:00am. We asked his friend why he wasn't there and he just shrugged. After a moment's thought, he dialed his number.
This guy whose name I hadn't got wasn't sure who of us was 'Sean's girlfriend'. So, he asked me if I was; I pointed at Bree. She strongly denied the assumption, almost as though Sean was the worst person anyone could date. He later rung him and handed me the phone. He assured me that he was coming.
Now, I didn't know what to say. I had never met or talked to the guy in question. Nonetheless, I held the phone as Bree kept busy with the hank she had met on the dance floor.
It was extremely noisy and I wasn't getting a thing he was saying. So, I just hang up. I went to the bathroom to wash my face because I was starting to feel a bit tipsy. I thought washing my face would help.
When I returned, I saw Bree on the dance floor with the tall brown hank who reminded me so much of Wyatt. Though this one was a better version of him. Some guy approached me for a dance; I ignored him and resorted to simply sit.
It was almost 2:00am and this Sean guy was not there yet. Worst of all, he was supposed to give us the transport back home. I made my last attempt to tell a drunk Bree that we should get going. Her excitement left no room for reason; she couldn't hear me out.
"Do you think I should call you uber?" asked the guy who came for us at the gate.
"No I still want to be around, you know I met a very handsome guy so I just can't leave", Bree protested.
Then, a certain guy entered and suddenly, the air around me shifted. He had something about him I couldn't explain. I craned my neck to see his face but I just couldn't.
One of the guys at the table said, "Sean is here."
Suddenly, the guy I was trying to look at start walking towards us. I did not know why, just then, my heart skipped a bit. I vainly pretended to talk to Bree as the guy closed down the space between us.
His presence overwhelmed me; as though he was draining the oxygen from around us, I felt lightheaded and nearly passed out. I thought he was approaching me for a chat.
"Sean," Bree called out when she noticed him.
I moved to give them space to talk. At the back of my mind, I knew something was going on between them; despite Bree's incessant denial of it. With me gone they talked for a while and later headed out to talk more, or, to do more!
Ali came by for the second time that night and asked to dance with me. I rejected his request, as I had done to every guy that had asked before him. I sat and sipped my drink. For reasons I didn't know, I was sad; melancholy!
After about twenty minutes, my sadness became madness. I was very much annoyed by;God knows who! My eyes fruitlessly scoured the room for them. In that moment, I imagined they were somewhere in the corridor making out wildly;since my sister was so drunk at the moment.
As I looked for my phone to call her, she showed up, happy. I knew why! Who wouldn't be happy about making out with Sean's very pink and soft lips?
"I think we should get going Bree. It's coming to 3:00am and I have class tomorrow." She shrugged me off and without a word, returned to the brown hank to who she was hooked before Sean had showed up.
I was now infuriated! So, I decided to just let my stupid possessiveness of a guy about whom I knew nothing but the name. While on the dance floor, Sean showed up and started dancing in front of me. Though, with his white eyes staring at me the whole time – like someone searching for something within me, or perhaps staring deep into my soul – I stopped dancing. I thought it best to lean against the wall that was behind me and catch a breather.
For the first time, a guy's stare had made me lose air. To my surprise, he came and stared at me the same way he had on the dance floor. It crossed my mind that it may be his way to compel girls to fall for him. If I wasn't careful, he would cast a spell on me.
I – signaling with my hands – asked him whether he was fine. He seemed lost! With him looking at me that way, I doubted that I could keep myself from fainting. So, I looked for ways of fleeing from the gorgeous creature.
As though he'd read my mind, he stepped closer and placed his hand on the wall, by my head, like he was blocking my escape.
"Do you think we could, maybe, get a quieter place and talk?" Sean asked after an unnecessarily long stare.
"Yes" I replied.
What was I thinking; saying yes to talk to a guy who I wasn't supposed to talk to? I followed his lead and then we leaned against a certain wall.
"What is your name?" he asked.
"June," I answered, "by the way you have very nice shoes."
"Thank you". Then, there was silence.
"Just so you know, there's nothing going on between your sister and me. Rather, I want something to go on with you and me. I think you're a really beautiful girl and I like your style too. So, if you don't mind, maybe we could," he stopped at that.
I opened my mouth to say something but couldn't find the right words. Why was I not slating him like I always do to other men. Of course, he was so different from them; not that he didn't possess what all men had but he was unique. I could tell that from the way he stared at me.
"I think we should get going because its coming to 4:00am. Don't you think?"
"But I've just reached!"
Yeah,exactly,you arrived late!
"Bree, come on. We should get going" I said.
She started complaining about how she wasn't seeing her hunk and with that, she stormed off into the crowd. Sean suggested that we look for her because it was getting late.
So,now you'reaware that it's getting late?
We searched everywhere for her but in vain. Sean, who was now being such a gentleman, suggested we try the parking lot which, by the way,wasdark andcozy.However, as we were looking around, Sean suddenly held my freezing hands and looked me right in the eyes; again!
He said the most beautiful words ever and suddenly, everything – even the very words he spoke – started to move so slowly. With each word, he narrowed the space between us. I tried stepping aside but my legs were so heavy. I couldn't tell whether it was the booze or the guy standing in front of me that made my legs heavy. He pulled me so close to him that we seemed to share the same air. I felt all the butterflies fly from my stomach and through my entire body.
His touch on the skin of my bare arm was smooth yet strong; with passion and desire all at once. Then, he closed his eyes and brought his lips closer to meet mine. That's when I knew that this great feeling – whatever was trying to build between us – had to be sealed with a kiss!
Something was pulling me close to this guy! I was known for being the loyal girlfriend but at this moment, Wyatt was the least of my worries. As I started to close my eyes and give in to the kiss, I saw Bree approaching. I pulled away from him.
He was about to ask me why I'd pulled back when he heard her voice. He swallowed whatever was meant to come out and we both walked to her. We got a boda-bodaafterwards and headed home.
The whole time before dawn, I couldn't get Sean out of my head. The fact that he opted for me to get his digits from Bree instead of him – or getting mine – made my situation all the more strenuous and unsavoury. I could never call a guy first.
Deep down, however, I knew there had to be a second time for us. We had to somehow meet again and finish the what we'd almost started…
Author Profile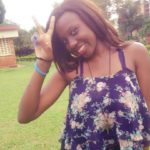 Ketra N Kisitu is a Student of journalism and mass communication at Kampala International University, an inspired writer and novelist