We can exclusively report that Gen. Yoweri Kaguta Museveni is likely to have silently exercised his prerogative of mercy, as the Commander in Chief (CiC) of the armed forces, to send signals to fellow commanders that he has revised his earlier stance against Gen. Kale Kayihura.
The hitherto all-powerful Inspector General of Police (IGP), Gen. Kale Kayihura has not only been rendered a redundant seat aka Katebe for over four years now, but also has his verdict pending at the Makindye-premised General Court Martial (GCM). For starters, Gen. Kayihura was sacked as IGP on March 4th 2018 via President Museveni`s Twitter Handle. He was replaced with his deputy then, Martins Okoth-Ochola
Three months after, on June 13th 2018 to be exact, Gen. Kayihura was dramatically arrested by the army whilst reportedly, trying to flee the country through a game park in the Southwest Part of Uganda. He was later on August 24th 2018 presented before the CGM and, charges related to failure to protect war material by issuing arms to unauthorized persons including Boda-Boda 2010 members led by Abdallah Kitatta between 2010 and 2018, were slapped to his person.

The army further accused the General of aiding and abetting the kidnappings, repatriating Rwandan exiles and refugees, and Ugandan citizens to Rwanda between 2012 and 2016. He denied the charges and, after 76 days in military custody, he was released on bail, a status under which he is still in. However, we can authoritatively reveal that his Master, Gen. Yoweri Kaguta Museveni has since elected to listen to Kayihura and his godfathers' pleas to pardon him.
It is common knowledge that imprisonment is meant to give the suspects time away, to refocus and recollect on what could have driven them into a particular state. It is like being forced into a rehabilitation center. Indeed, since his arrest, detention and bail period, Kayihura has shown remorse before his master and the country at large. He has since attracted sympathy from a reasonable number of people among whom, have even, publicly sought for the President`s mercy towards him.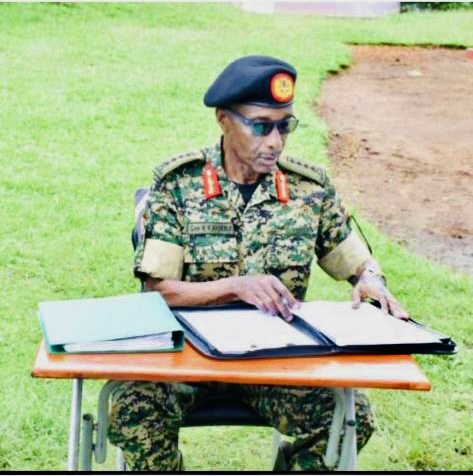 It could be against this background that President Museveni, to the knowledgeable, has in recent months been assigning Gen. Kayihura, some special duties. And recently, he exhibited it when he left him out as he retired 49 Generals from the army. This was on August 31st 2022 when he retired 49 generals minus Kayihura. Of course, this isn't because of the pending charges at the CGM. At least we know.
The latest assignment General Kayihura executed was at Labwordwong army Training School in Agago District, headed by Lt. Col. Steven Eyapu and Olilim Training School, Palam Sub County, Ngariam County in Katakwi District under the command of Lt Col Eria Katorogo Mugasa. Here, Gen. Kayihura offered what it known as a Lecture of Opportunity. Both trainees from these two army facilities are slated to pass out on March 23rd at Kaweweeta at a function where the CiC will be chief guest. On seeing him, the trainees were so excited that many took and posted on their social media statuses, his photo as he prepared his documents before him.
Gen. Kayihura sets a record of the only General among the many, who has been allowed to execute official duties whilst on bail. And if this is not a signal enough that his days to walk free and get back to normal service are just a wink away, then we know of none. Doesn't the old adage, which is an English catchphrase plucked out of a stanza from the soldiers' folklore song say "Old soldiers never die, they simply fade away?" Indeed, several Generals have before, been faced with lighter charges compared to Kayihura`s, but they kept on Katebe until they were cleared and redeployed.
By the time Gen. Nakibus Lakara was recalled from Katebe after eight years, he had debts in millions, at New Victoria Club Kireka where, he used to spend most of his time playing darts. Being penniless and yet offered a shelter for his leisure, Gen. Nakibus actually started the Rendezvous` Darts Club and became its first President. Lakara had been accused of causing financial loss worth UGX61M only, to the government when he was serving as the Army Chief of Staff in 2004.
He was recalled after being acquitted by the General Court Martial of all charges in 2009. Upon his return, his re-induction into active service begun with a course at the National Defense College in Kenya. Thereafter, he was appointed the 3rd Division Commander in Karamoja Sub-Region. Gen. James Bunanuka Kazini (RIEP), the former Army Commander between 2001 – 2003 was accused of causing financial loss, insubordination, abuse of office and disobeying the lawful orders from the CiC.
He was subsequently tried and later sentenced to three years imprisonment. However, he appealed and stayed on Katebe for years until his death on 10th November 2009 at the hands of his supposed concubine, Lydia Duraru in Namuwongo. During his time on Katebe, he used to loiter around Munyonyo and would spend most of his time at Miki`s Pub just adjacent his home.
From here, he would drift between California Pub at City House and Club Obligato where, he would dance away to the tunes of Afrigo Band in company of his colleague Brig. Gen. Kasirye Gwanga (RIEP). Going by how previous cases brought against top army officers went, signs are that Gen Kale Kayihura, will soon, if he hasn't already walked away scot-free, especially after showing remorse and said sorry to the commander-in-chief.
Upon falling out with Gen. Museveni, Generals David Sejusa, and Brig Henry Tumukunde, like Kayihura, were arraigned before the GCM. But after `seeing the light` and apologizing, plus owning up and promising renewed loyalty, they were handed light sentences, rehabilitated and brought back to the fold. But it is more than just the above. It is a process that involves intense lobbying from relatives, friends and sometimes trusted serving army officers.
In his case, Gen. Kayihura has had more than enough of these. His people in Kisoro have pleaded with the President to have their own pardoned. Army officers like Gen. Muhoozi Kainerugaba, who of course has the President`s ears and place at heart, has pleaded for him. This is not to mention the First Lady, Janet Kataha Museveni who, is said to have a soft heart towards the hitherto powerful General. With all these and other instances favoring him, we have all the authority to prophecies Kayihura`s return.
Possible Deployments
At his rank, Gen. Kayihura cannot be deployed in the army anywhere below a CDF, Deputy CDF or Head of an Intelligence Agency. Others are political appointments like a Minister, State Minister and or, a Permanent Secretary. However, with these latter three, he has to go through Parliament for vetting. But in case he beats the vetting, his travel sanctions might affect such appointments as he might be required to move out of the country on official duties. But in all, we pray for save return.
Author Profile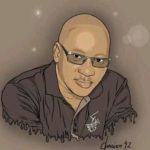 Stanley Ndawula is a two and a half decades' seasoned investigative journalist with a knack for serious crimes investigations and reporting. He's the Founding Editorial Director and CEO at The Investigator Publications (U) Limited