A lawsuit is rife for journalist James Kabengwa after a controversial opinion he penned in support of the gays community (LGBT groups) soon after President Yoweri Museveni had signed theanti-homosexuality Law, police records show.
A complaint under reference SD/13/11/09/23 at Nakabugo-Bulaga police post in Wakiso District accused Kabengwa for "promoting" homosexuality and called for his prosecution under Section 11.2 (b).
On conviction, such culprits attract a 20-year sentence or life in prison. The law introduces death penalty, life in prison and other jail terms depending on the category of offense under it.
The Uganda Criminal investigators at Bulaga Police Post confirmed they had issued Mr Kabengwa with criminal summons to have him interviewed over hisopinion publishedin June. Him or his family have not commented.
It is not clear why a complaint against him came nearly three months after his article. However, the journalist has been at loggerheads with one of Africa's oldest monarchs – Buganda Kingdom for his stance against corruption within the institution.
An online story recently said some officials of the Kingdom had vowed to punish Kabengwa for criticizing Katikkiro Charles Peter Mayiga. According to thestory publishedby newsday, some Buganda Kingdom enthusiasts were vowing to follow up not only with Mr. Kabengwa but his family for his critical stance towards the Kingdom. It is unclear whether the same group is now the one pursuing the journalist.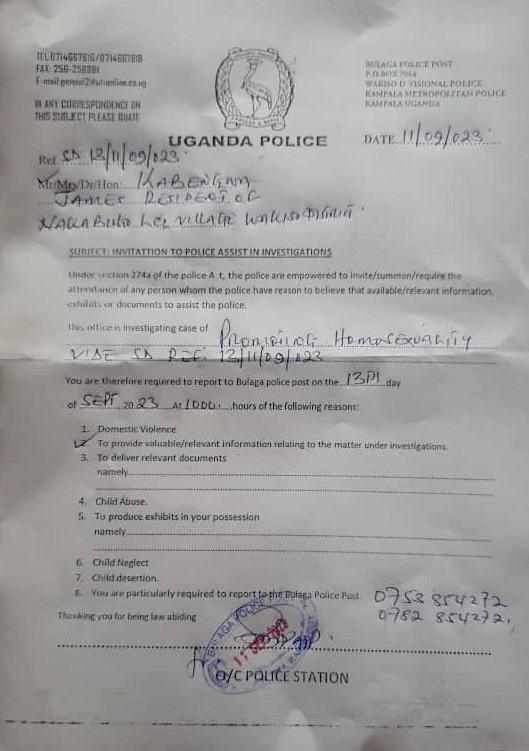 In the police complaint, a citizen cited an article by Mr. Kabengwa published in June titled "Stop the backwardness and homophobia, same sex is not a crime" in which he called upon the international community to squeeze Uganda government officials until they reverse the Anti homosexuality law that president Museveni signed in May this year. The law was passed with the support of 341 out of 389 members of parliament who attended that day's sitting.
A statement recorded by the complainant at Police said "I have been seeing the name (byline) of Kabengwa in state-owned New Vision and Bukedde newspapers and the privately owned Daily Monitor. I have seen his articles covering war, politics and general news. He is highly controversial with his behavior reaching intolerable heights in 2020." Kabengwa had reminded Uganda's authorities of their obligation on various international charters and called for more global pressure.
Some government officials, international organizations, and business leaders around the world condemned the new law as "a horrific and wrong law." There is anger within Uganda's regime leaders after international agencies started isolating the third world East African nation. The World Bank has cut off future loans to the country and President Museveni has furiously responded that his country can self-sustain.
A joint statement by the leaders of the Global Fund, UNAIDS and PEPFAR stated: "Uganda's progress on its HIV response is now in grave jeopardy. The Anti-Homosexuality Act 2023 will obstruct health education and the outreach that can help end AIDS as a public health threat." Under the new anti-homosexuality law, Mr Kabengwa is liable for a prison term of up to 20 for his alleged promotion of homosexuality.
On August 18 2023, a young man aged 20, became the second to becharged with "aggravated homosexuality," and they face a death penalty. They were arrested in the Eastern side of Uganda. In a Statement on August 30, Amnesty International called upon the Office of the Director of Public Prosecutions (DPP) in Uganda to drop charges.
"It is deeply disturbing that the Ugandan authorities are prosecuting people based on their real or perceived sexual orientation or gender identity. Discrimination and persecution of lesbian, gay, bisexual, transgender and intersex (LGBTI) people in the country must be halted," said Tigere Chagutah, Amnesty International's Regional Director for East and Southern Africa in an August 30.
An advocacy civil society agency, Human Rights Awareness and Promotion Forum (HRAPF), laid five as the statistics of people so far prosecuted since the passing of the LGBTI law. There have also been reports of a spike in violence and other violations against LGBTI persons in Uganda. "A total of 149 cases of violence against LGBTI persons in June and July 2023, including evictions from homes, villages and rented homes, and actual or threatened violence," HRAPF said in a statement in August.
Author Profile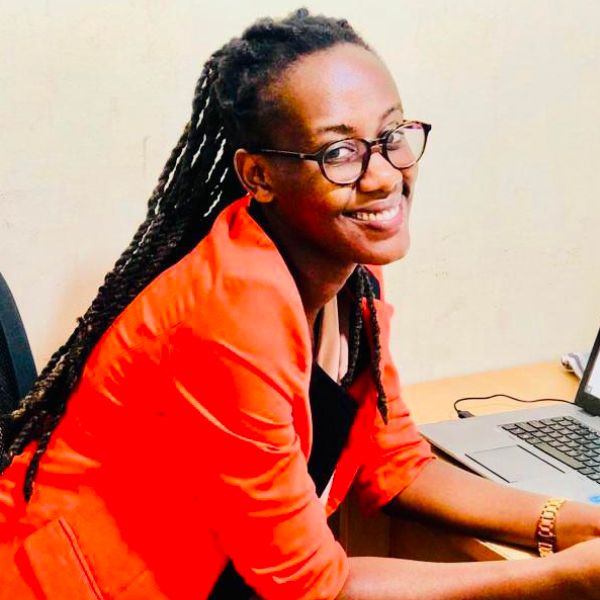 Joan Atuhwera is a Business Administration Graduate, a Human Rights activist and writer with over five years' experience in pursuing justice for others via her keyboard. She can also be reached via email: [email protected] or WhatsApp +256774334595