KAMPALA, Uganda: Property magnate Sudhir Ruparelia is one of the biggest landlords of the government of Uganda. He rents space to the Attorney General's office, to the Ministry of Justice and Constitutional affairs, to Internal Affairs, to Parliament and to the ICT ministry, among others.
He also, recently became the landlord for Ministry of Gender and Labor after acquiring Simbamannyo building from Equity Bank vide a dubious auction which the President has directed both the Central Bank Chief, Prof Emmanuel Tumusiime Mutebile and the Attorney General, Kiryowa-Kiwanuka to investigate and report back in seven days.
The investigation comes after the owner of the building, architect Peter Kamya wrote to the President seeking for his intervention into the matter. Away from that, we have gathered how the businessman bought the Sudhir the 3-star Afrique Suites in Mutungo, in a dying urge to sell the same to Electoral Commission which is in dire need for office space.

We understand that EC recently released bids to the public in search for among others, a facility to act as their permanent home. Seven companies registered their interests. These include Golf Course Investments Limited, Simbamannyo Estates Ltd, Luwa-Luwa Investments Ltd, Canaanze Construction Ltd, Vizale Limited, Aya Properties Ltd and Kagoro F. Mark.
For this story's sake, our focus among the above companies is notably on Simbamannyo Estates and Luwa-Luwa Investments. The latter, we insist, has tycoon Sudhir Ruparelia's interests deeply vested. In this bid, Arch. Peter Kamya represents Simbamannyo Estates. Kamya is hitherto the lawful owner of Simbamannyo House and Afrique Suits. So, we can satisfactorily state that it's a Kamya vs. Sudhir before EC bid exercise.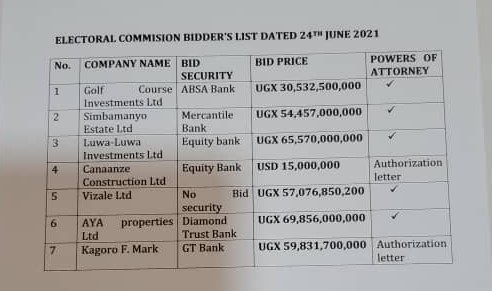 Interestingly, both men are vending the same property, Afrique Suits before the buyer in EC! Whereas Kamya offered the property for UGX54, 457, 000, 000, Sudhir's side put it at UGX65, 570,000,000. Away from this confusion, our reader would understand why we believe, just like the President stated in his letter, that Kamya had a buyer and would be able to settle his debts with Equity.
For starters, Kamya needed only USD7, 000,000 (UGX25, 200,000,000) to secure Simbamannyo House from the jaws of Equity Bank. If he was allowed to sell Afrique Suits to EC at the staked UGX54, 457, 000, 000, he would be able to pay Equity Bank, recover Simbamannyo House and walk home with a difference of UGX29, 270,000,000!
On Sudhir's side, he wanted Simbamannyo House but he couldn't get it if Kamya remained with Afrique Suits in his grip. To undo what Kamya had projected, he had to connive with Equity Bank and bangle both properties in one fold for 'auctioning.' This way, he is focusing on selling to EC, a property he bought at USD4M (14,400,000,000). He will therefore not only walk away with a difference of UGX51, 170,000,000 but with Simbamannyo building as well.
The flashback
On top of that, upon controversially taking over Simbamannyo, the Ministry of Gender paid Sudhir the arrears in rent, reportedly amounting to over USD1.5M whose access Kamya had been denied. Insiders say Sudhir went for the building after his people in government assured him they would help him prevail over the ministry to clear, which they did.
The same people within government are reported to have also assured him that they would prevail over Electoral Commission to turn Afrique Suites Hotel into their office. This is why the tycoon, also the Federal Republic of Nepal Consul to Uganda, under the veil of the Supreme Court Clerk Ronald Luwangula, ended up buying the hotel.
Because of the big EC deal described in these lines above, Sudhir paid a cool USD700, 000 to Luwangula to act as the Afrique buyer before Equity Bank. Upon buying the facility against an ongoing court process questioning the legality of the Equity Bank loans, Sudhir craftily removed caveats from the property, transferred the land into the names of Meera Investments Limited before placing his own caveats to desperately bar Arch Kamya from reclaiming the same.
The electoral commission is currently occupying the old facilities on Jinja road, former offices for what used to be the procurement body of the government of Uganda. The place floods whenever it rains, making it unsafe for the important office. That spacious Afrique is nestled away in the coolest Mutungo and has fine facilities, it would make it the best option for the Electoral Commission to operate from. Watch this space…