KAMPALA, Uganda: Barring the prevalence of Covid-19, Tycoon Sudhir Ruparelia was supposed to direct his hotels to throw beer binges to celebrate what he innocently thinks was a victory, in the case Bank of Uganda justly opened up for justice, to force him vomit up close to Ush400Bn he robbed from Crane Bank, bleeding it to death.
Immediately after the central bank informed the Supreme Court it was withdrawing the case, Sudhir went bonkers, sending out messages to his army of fans, hackers and sundry, proclaiming how he had floored Bank of Uganda and how he was now going to collect billions in legal costs!
So thrilled the man got that he even sent out a message of triumph to this inspective website he had just days before, alas, paid hackers to try to put out of action! Much as we unmistakably knew he was rejoicing imprudently, we left him to his folly, intending not to spoil his party, and so, we returned the congratulatory message.

As people of good reason looked on in awe, Sudhir pressed on by his son, Rajiv Ruparelia, now joined by his jesters, went on and on churning out message after message, congratulating themselves while rebuking the central bank for its 'ignorance' of the law!
But what was it that Sudhir and his jesters were celebrating really? Was it the coup of evil over justice? Was it because he robbed Crane Bank to death and then innocent Ugandans were going to pay him hundreds of billions in costs? What was it really Sudhir and his sidekicks were jubilating about?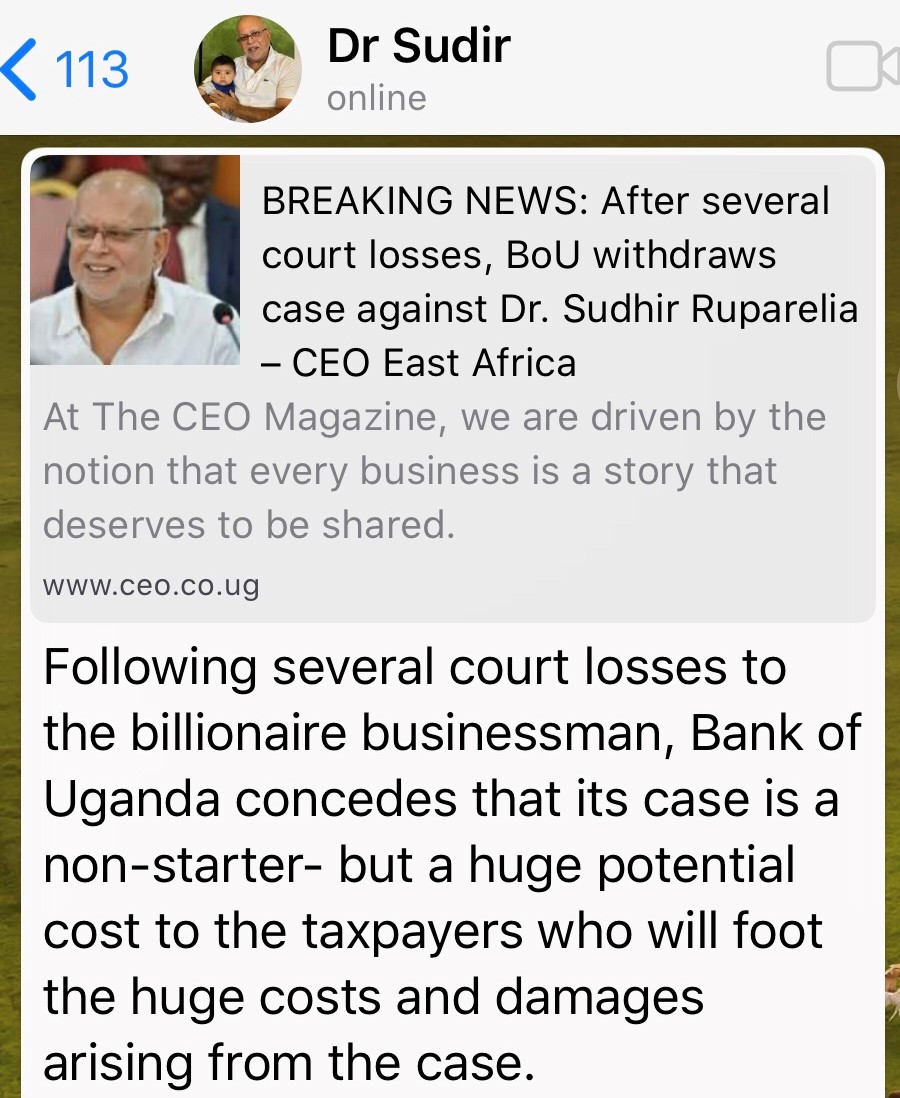 Well, Sudhir's merrymakings were not only ill-formed and hasty, but also out rightly callous. Prudent people know the simple fact that a withdrawal cannot stop a party doing so from bringing up the matter again after making some improvements here and there.
And here we are, basing on what we have gathered, revealing how the central bank has designed a way of restoring the lawsuit, after replacing Crane bank in receivership with a capitalized Crane Bank, hence curing the blunder it had committed by filing the case in the names of a factually dead financial institution.
To put it simple for the benefit of Sudhir's jesters, a retreat in the war zone is no good justification for the fighting outfit with a momentary upper hand to throw guns away and go on partying while drinking booze, since the retreating force can easily emerge and cause havoc against the jubilating tipsy forces.
Sudhir must thank Covid 19, he was going to blow money throwing beer binges for no good reason as we have ably illustrated above. There is no justification under the sun for this lawsuit to be thrown out of court, basing on insignificant excuses in light of the fact that Sudhir confessed in writing to have extracted the billions the central bank wants paid back, refunded USD8m, and staked buildings to cover for the balance.
The acknowledgement of guilt on part of Sudhir must be tested by court to establish its legal worth or lack of it, together with the evidence and exhibits from all sides to the conflict, before court can finally weigh all that and finally come up with a just, fair and convincing decision.
May the hearing start ASAP. And may justice conquer evil in this case ultimately. Finally, it's the Preliminary Objection (PO) that went up to the Supreme Court, from where, the appellant withdrew it upon realizing that a dead CBL couldn't sue but a capitalized one. Remember we (Tax Payers) capitalized CBL after the self-confessed robber cleaned it of capital! Though the Investigator is still on and off due to hackers; interference, this and other stories are and will always be safely up here. Watch this space…
Author Profile
Uganda's First online News Paper. "More than Just News" Investigative, Informative, without Fear or Favor