Last night, the Chieftaincy of Military Intelligence (CMI) finally freed on bond, two Journalists and Co-Directors of the Spy Reports, an online news website in Uganda. Johnson Taremwa, and Milton Tumusiime were released just a day after their colleague and fellow Director, Raymond Wamala was released after a day-long grilling at the Mbuya based CMI Headquarters.
The trio is being accused of publishing a story which, implicated one of CMI top officials, in an alleged bogus diamond deal. The story titled; "CMI Boss Defrauds Kenyan National US$100,000 in a Diamond Deal," was published on Saturday. First to be arrested was Taremwa on Sunday midday and Milton was arrested that evening by plain-clothed security operatives. On Monday, they unsuccessfully raided Wamala`s home in Bweyogerere at about 9Pm. He survived the nigh arrest after social media went into flames to criticize the development. He however, handed himself in the following day.
"They grilled me for a whole day until they realized I had no attachment to the `offensive` story. My colleagues will be reporting on bond every Tuesday. I can't tell until when, because CMI have no rights to prosecute suspects," Wamala said. Taremwa and Tumusiime are just the latest to fall victims of the hazardous security operations against journalists. Just about a fortnight ago, our own Senior Editor for Business and Human rights, Pius Kiyimba Malkom fled the country after surviving a kidnap attempt by a whisker.

Away from being trailed by unknown and suspicious characters for some time, Malkom, close to a month ago, got a little closer to his persecutors. He was headed home after work when, a drone vehicle, white in color, closed in on him along Bulabira road in Najeera. He tried to run upon sensing they were after him. In a bid to pursue him, they left their vehicle stationary in the middle of the road. As luck would have it, a suspected drunken driver, moving at a high speed, rammed hard into their car. This prompted them to let go of their target and handle the `intruder` first. It's at this moment that Malkom made good use of his feet – he ran as fast as he could.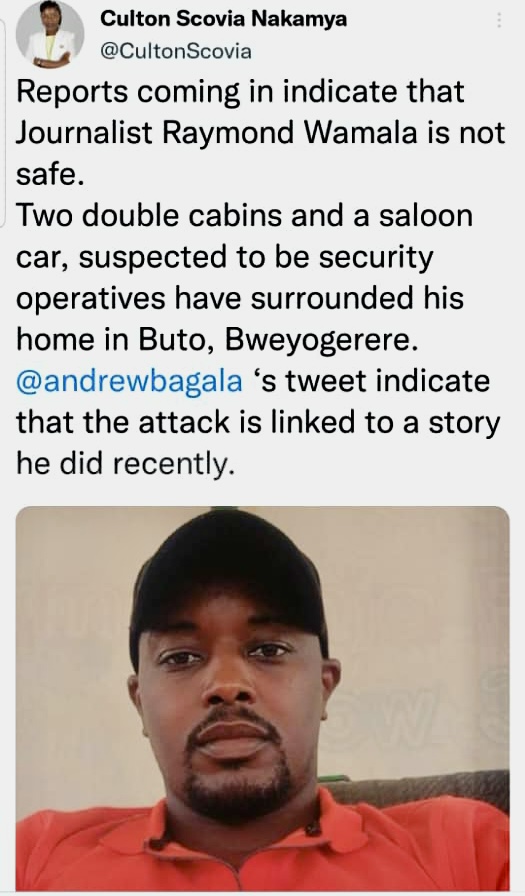 Even before finally fleeing the country, Malkom, on our CEO Stanley Ndawula`s advice (once a victim of the same), had gone into hiding from within. This was after suspicious characters disguising as customers at the Investigator sister company, kept frequenting our workplace in search for him. His family too, wasn't saved from this ugly experience. His wife, Carol was recently, also confronted by unknown men, asking for her husband`s whereabouts. She later went to police but with little, or no help. "I tried to report the matter to police but I was discouraged by the officers themselves who, refused to record my case, saying I should just be careful and always watch my back!"
The Dreaded Drones
Drones have lately become dreaded cars. Their abuse by security operatives have led Taxi owners and operators to detest them. This development, because even passengers dread them to the marrow. In fact, one of the renowned Taxis` owner, Joseph Tamale Mirundi has vowed to drag government to court, over security personnel's abuse of these vans. "I have already instructed my lawyers to do the needful. If, even passengers fear to board them, how about if we decided to sell them off! Who will buy them when we now, all fear them? We are losing business via these cars, and value of the same by day." Mirundi wondered.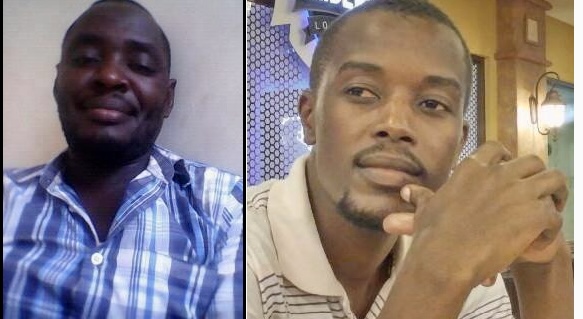 History in Replication
Witch-hunt of journalists is not a new trend in Uganda in general and, at The Investigator in particular. On July 28th2018, our own CEO Ndawula Stanley was kidnapped by Internal Security Organization (ISO) operatives at 1:00AM, from Yaya Xtra Lounge, his hangout in Kamwokya, Bukoto Street, Kampala Capital City.
This was on orders of the then ISO Director, Col. Kaka Bagyenda. Ndawula was being accused of outing a story about the over 100 suspects who were being held incommunicado, at Bagyenda`s private farm in Kalangala. Earlier in October 2017, the same Ndawula, together with The Investigator IT boss Robert Ndawula, had been arrested and detained for seven days, on the hitherto most feared Inspector General of Police (IGP) Gen. Edward Kale Kayihura`s orders.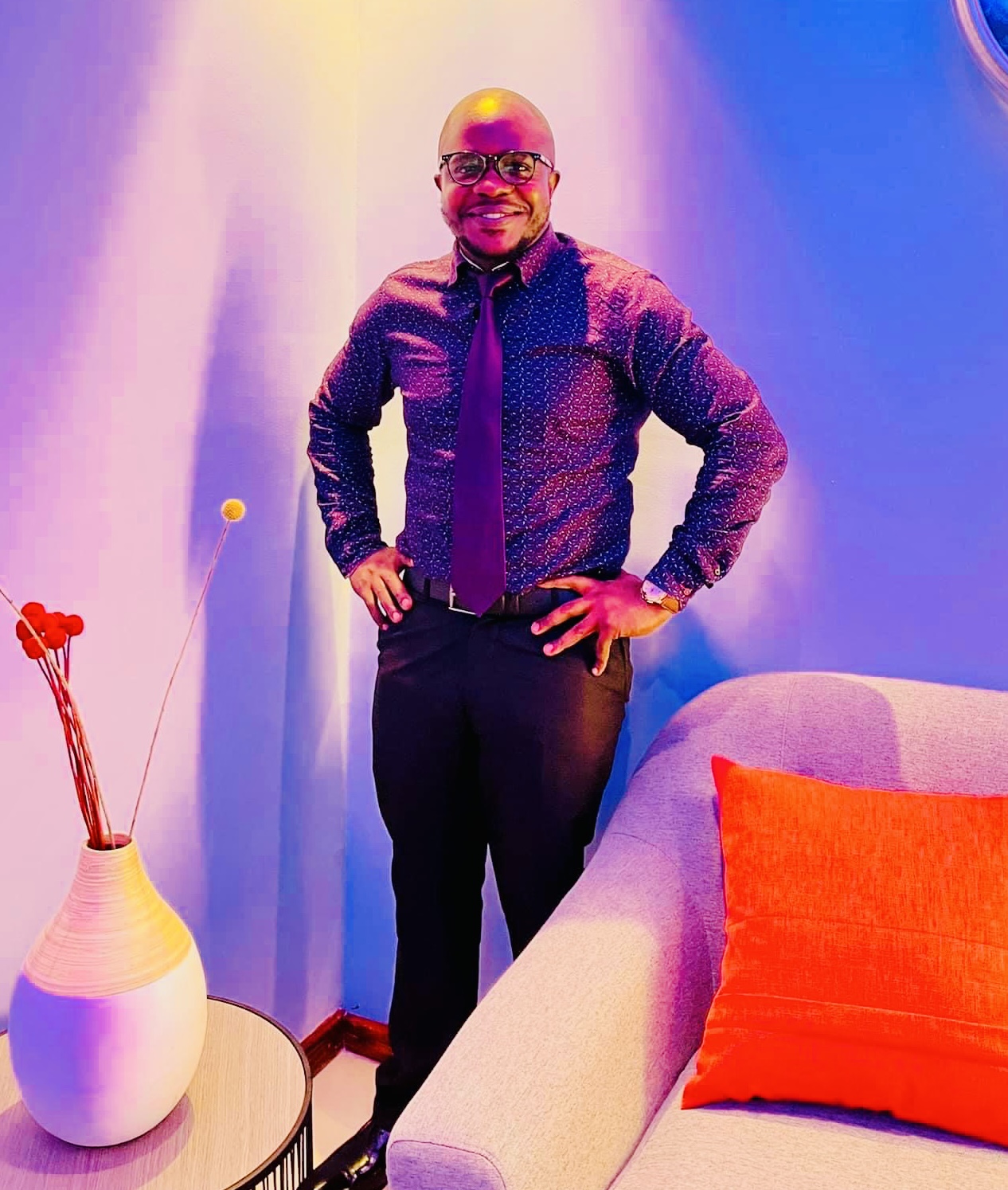 The two had given themselves in to police on October 24th 2017, after they received intelligence on how, the General had planned to have them kidnapped, hauled further onto Lake Victoria and make them sign some documents, or drown them there. "I knew that if we got kidnapped, everyone, including the General himself, would deny responsibility. We would remain eternally missing. That's why I elected to give myself in, and later called Robert to join me. We foiled their plans but we dearly paid," Ndawula told journalists then.
"Stanley, who has previously criticized the police leadership, alleges some powerful officials in the law enforcement body, want them remanded at Luzira Prison. He further states he was provided documents to sign for police bond which was not granted to him before being driven to Kiira Road Police Station in Kampala where he is incarcerated," Giles Muhame, the President of the Online Publishers association, told a press conference then.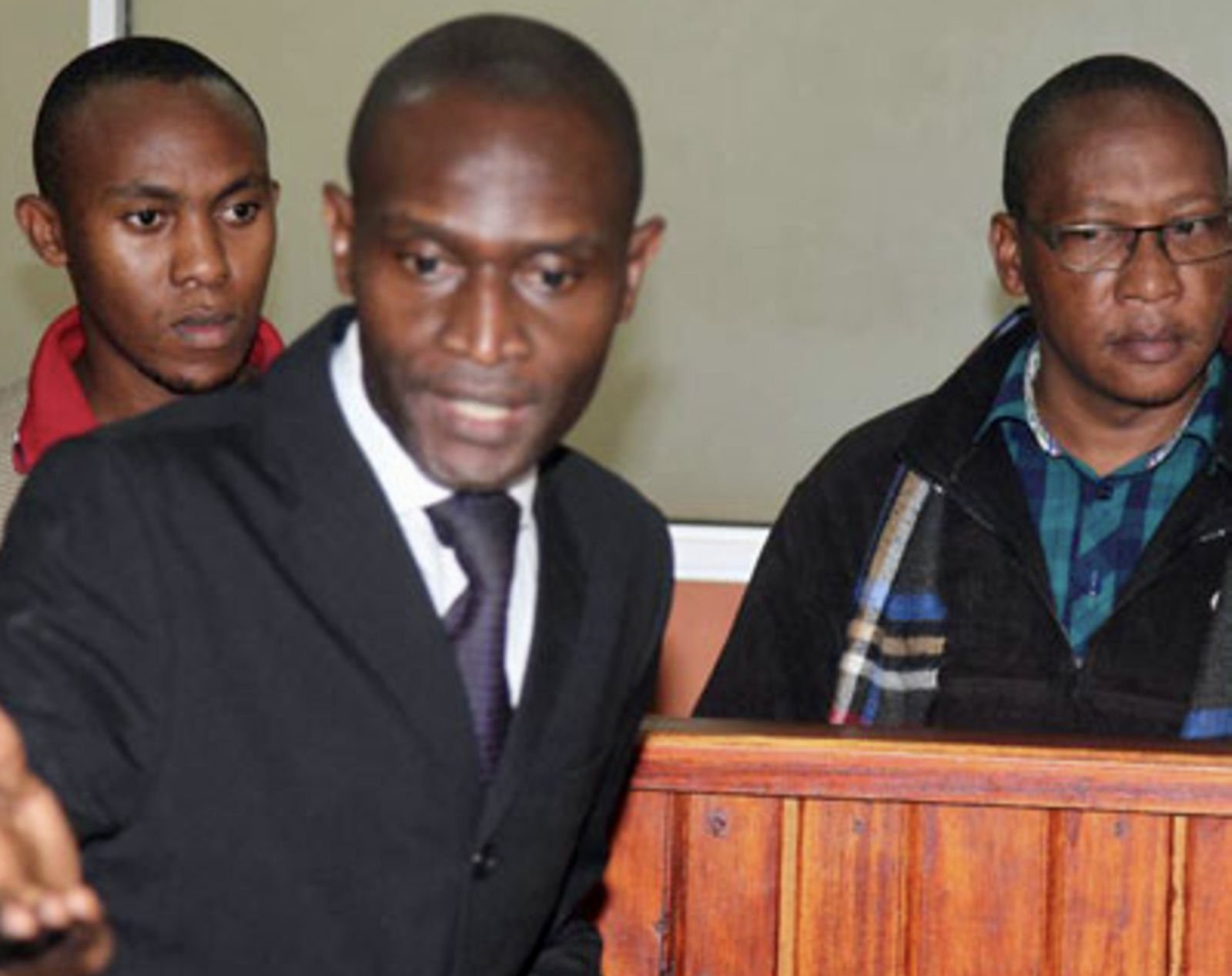 He concluded thus; "We condemn the arrests of Stanley Ndawula and Robert Ndawula. Other journalists who appeared at the police station to check on Stanley were also asked to record statements. We call on Police authorities to stop this arbitrary harassment of journalists and respect freedom of the press, as called for in the country's constitution. When the public's right to know is threatened, and when the rights of free speech and free press are at risk, all of the other liberties we hold dear are endangered. A free press is the cornerstone of democracy. We need a free press. We must have it."
Codenamed `CIP Records` (Crime Infiltrated Police Records), Stanley`s series hit Gen. Kayihura the bad side. Of all the articles, one, of the Kamwenge Town Counsel Mayor, Geoffrey Byamukama hit him most hard. Titled; "CIP Records P.VII: State of Horror as Brutally Tortured Kamwenge Mayor is Discovered Rotting in Nakasero Hospital," the story carried photos of the severely tortured Mayor, bringing to light, the picture of Gen. Kayihura`s criminal police of the time.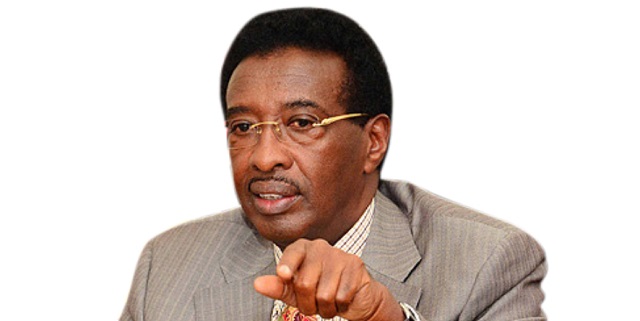 Upon their release, Robert embraced the offer by a Western Country where, he fled to date. His boss, Ndawula resolved to die home. "I am `too old` to go into exile. I have made up my mind to die from here. I need freedom from your IGP," Ndawula instead wrote to the President, Gen. Yoweri Kaguta Museveni. Indeed, he stayed in the country but in a semi-retirement mode. Back to Kiyimba, his escape from the Country brings the number of journalists flying into exile to 22, in a space of just three years.
In May 2016, police arrested two journalists. The duo was taken into custody as they attempted to cover opposition defiance protests downtown Kampala. Herbert Ziwa and his cameraman Peter Sserwanga were downtown Kikuubo,covering an opposition defiance protest. This was after Minister Jim Muhwezi had issued a statement of arrest and close on all media houses covering any opposition political led protests countrywide.
Police on orders detained both journalists to Central Police Station Kampala. The Kampala Serena based Nation Media Group (NTV) journalists said they were roughed up, beaten and put on the police patrol pickups to CPS Kampala. They have since gone down the oblivion. And now, The Investigator believes, the new Computer misuse law has been brought to control and intimidate journalists. This, since its specific on journalists being inclusive of this particular, infamous law. Watch this space…