KAMPALA, Uganda: On October 23rd, the Uganda Government chief mouthpiece. Ofwono Opondo called a Press Conference at the Uganda Media Center. During the conference, he introduced the topic of 82 government officials who had reportedly been interdicted over a number of vices, corruption atop.
For purposes of this article we shall name only one. Opondo mentioned Edgar Agaba as one of the public officials who had been shown the exit. Agaba was the boss at the Gaming and Lottery Board. As a matter of fact not many Ugandans had, before the Opondo utterances knew the fate of the trained lawyer in Agaba. Anyway, during the press briefing, Opondo revealed how the Minister of Finance Matia Kasaija had interdicted him way back on July 19th 2019.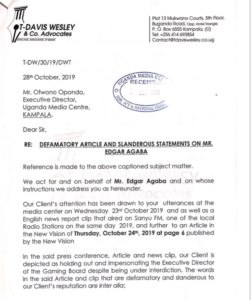 But to Opondo utter annoyance, Agaba is still purporting to be the boss of Gaming and Lottery Board. This is what, he at least told the news people during the October 23rd presser. The journalists carried the assertions by Opondo. The government owned mouthpiece, the New Vision, carried the story on October 26th. Sanyu FM carried the bulletin on the very day Opondo made the accusations.

The mouth is a trap, so they say. And Agaba is itching to make Opondo realize the wisdom in that proverb. He has sent the loud-mouthed government spokesperson a letter, demanding that he pays him a fine of UGX200M for disparaging him. He also wants Opondo to retract his utterances in a widely circulated apology.
The lawyers for Agaba T-Wesley and Company Advocates put their client's discontentment in a letter to Opondo, dated October 28th 2019. The letter complains about what the Lawyers term as defamatory and scandalous statements which depict their client as an impersonator of the Executive Director of the Gaming Board whereas not.
The letter has some statements from Opondo's speech that were carried by the New Vision as well as those of Sanyu FM, all picked from the Opondo's presser speech.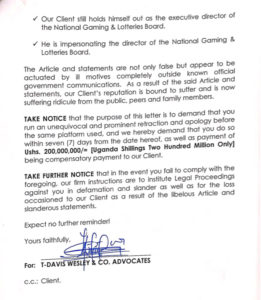 The one from New Vision reads, "Speaking to journalists yesterday, the Executive Director the Uganda Media Center and government spokesperson said some of the interdicted people parade themselves before the media as if they were not interdicted, a move he said was unfortunate."
Yet another one reads, "Opondo cited Agaba who was interdicted on July 19th by Finance Minister Matia." He said Last Saturday, Agaba addressed the media as the Executive Director of the Gaming Board. Opondo warned Agaba against what he termed as impersonation.
It also quotes a clip by Sanyu Radio regarding the statements made by Opondo. The lawyers assert that Opondo's statements are not only false but appear to be actuated by ill motives which is completely outside the known official communications. They give Opondo only seven days to respond to the offer of paying the sum of UGX200m or warm for a rigorous court battle. Watch this space…
Author Profile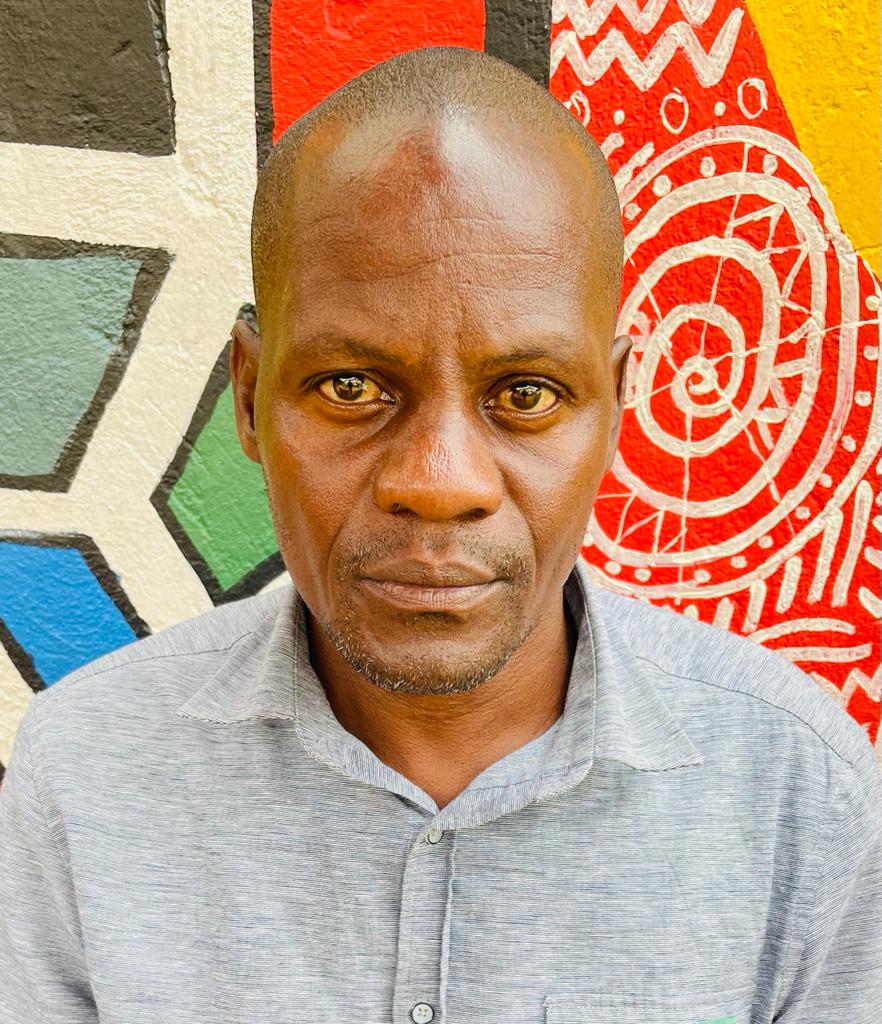 Mr. Stephen Kasozi Muwambi is a seasoned crime investigative writer, majoring in judicial-based stories. His two decades' experience as a senior investigative journalist has made him one of the best to reckon on in Uganda. He can also be reached via [email protected]