KAMPALA, Uganda: On 14th October 2019, Pastor Aloysius Bugingo was honored by Public Opinions International and East African Book of Records as the Most Admired and Influential Born Again Faith Leader in Uganda beating other Nominees such as Pastor Ssenyonga, Pastor Kakande, Pastor Kayanja, Pastor Kiganda, etc.
The prestigious award was presented to Pr. Aloysius Bugingo by Luzindana Adam Buyinza Team Leader of Public Opinions International and Dr. Paul Bamutaaze Director of the East Africa Book of Records. Public Opinions is a field based organization involved in promoting attainment of Uganda Vision 2040 and United Nations Sustainable Development Goals through Strategic Public Relations, Public Awareness, Information Dissemination, Research, Networking, Training and Mentorship and investment Advisory.
Pastor Bugingo was awarded as the most admired and influential pastor in Uganda following a countrywide survey conducted by Public Opinions. He was appreciated for inspiring underprivileged youth and women to work towards prosperity, safe living as well as building personal capacities for a positive change.

Bugingo, Public Opinions and East Africa Book of Records managements resolved and declared to embark on a strategic nationwide campaign of identifying, mobilizing, recruiting and organizing over three million youths and women as Development Change Agents in all villages in Uganda.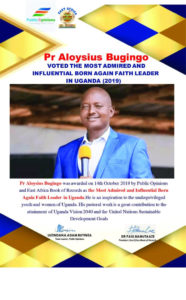 The Development Change Agents will be the core of mass mobilization for development as well as guiding communities to benefit from Government programs. Bugingo said, the NRM Government under H.E Yoweri Kaguta Museveni has put in place many good policies and projects but they are not known to Ugandans, hence a few people benefit from the same due to lack of information and public awareness.
Bugingo hailed President Museveni for having led a successful liberation struggle in 1982 that resulted into total liberation of Uganda in 1986. He said he doesn't belong to any Political Party but he pointed out Museveni as having been able to transform Uganda into a better nation with healthy, beautiful and prosperous people. He further thanked the son of Kaguta for ensuring peace and stability in Uganda, as well as promoting freedom of worship.
The people snap profiles
Pastor Aloysius Bugingo was born in 1972 in Mulago Masaka District. Hailing from a predominantly poor family, he has risen through ranks to become the Most Admired and Influential Born Again Faith Leader in Uganda in 2019.
Adam Luzindana Buyinza is the Director of Buyinza Natural Life Products, a company involved in processing and selling Natural Products Such as Buyinza Peanut Paste, Buyinza Family Tea, reportedly best for detoxifying, ensuring normal blood flow, treating candida and urinary tract infections as well as preventing and controlling Diabetes, Cancer and High Blood Pressure.
He talks of their tea as a strong remedy made from over 10 tree roots, leaves and seeds. Luzindana is also the Team Leader of Public Opinions, a Research and Public Relations Company. He was a member of the National Executive Council of NRM (2010-2015) where he served as National Vice Chairman of NRM Youth League Kampala Region.
And, Dr. Paul Bamutaaze is the Director of East Africa Book of Records, an organization which has awarded numerous Presidents and leaders such as H.E Yoweri Kaguta Museveni, H.E Jakaya Kikwete, President Uhuru Kenyatta, and Dr. Sudhir Rupaleria among others.
He is also the Chairman Uganda Health and Fitness Group Limited and coordinator of National Day of Physical Activity organized under the auspices of Ministry of Health and presided over by H.E Yoweri Kaguta Museveni.
Author Profile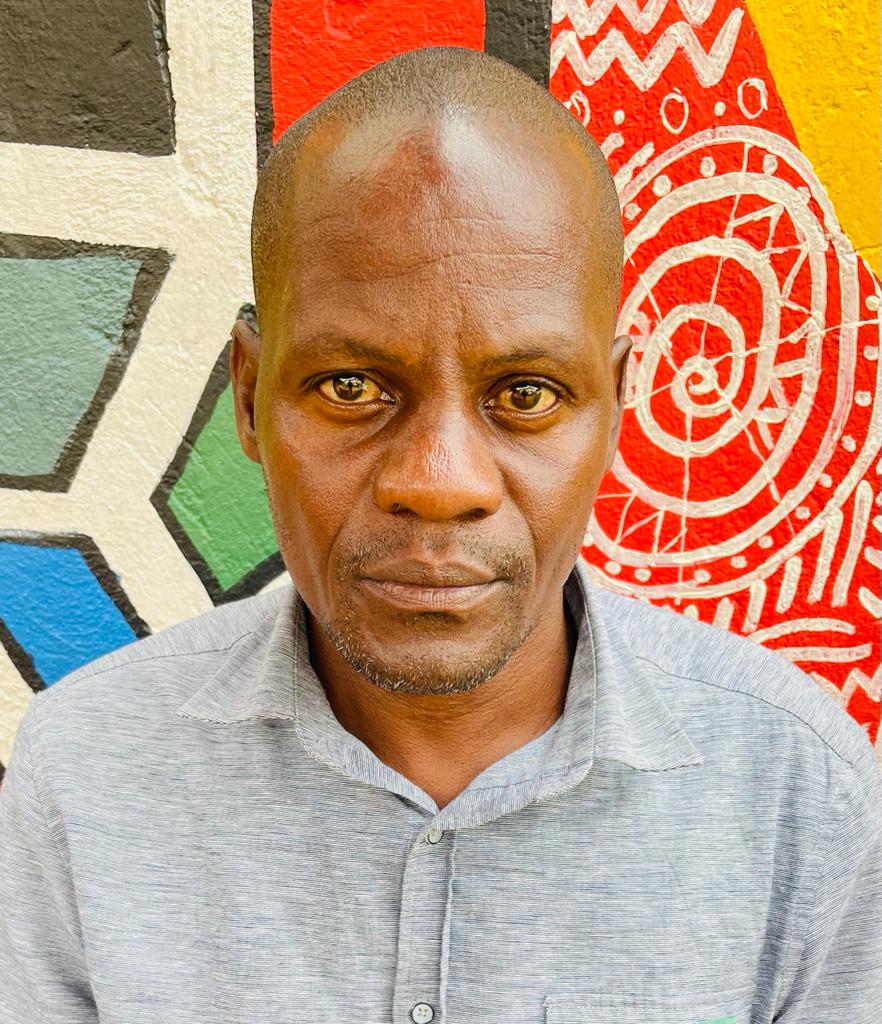 Mr. Stephen Kasozi Muwambi is a seasoned crime investigative writer, majoring in judicial-based stories. His two decades' experience as a senior investigative journalist has made him one of the best to reckon on in Uganda. He can also be reached via [email protected]