This book is premised on a fundamental foundational life skill that is unchangeable in the face of changing generations, technology and culture. A skill that has been the missing ingredient in our African homes; a secret that the World has kept from Africa affecting our communities, economies and political systems.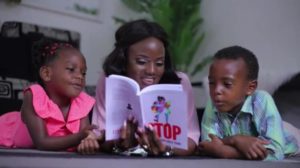 This book provides a simple guide to help parents dive deep into the possibilities of changing Africa's narrative through a re-alignment of our parenting methods.
You don't need to have a child to get a copy of us. Do you interact with children!
You then qualify to get a copy of this book.

Here is the link flutterwave.com/pay/listentoyourchildthink
For any inquiries about the book, please call us on +256782883958.
About the Author
Manuela Pacutho Mulondo has 15 years' work experience with children and in 2014, founded The Cradle; a 24-hour childcare center that is partnering with mothers, families, organizations and Governments across Africa to create spaces for lactation and childcare at the workplace.
In recognition of her unconventional approach to women empowerment, she was selected to give President Barack Obama introductory key note address during his 2018 visit to Africa. Her vision is a World, where women are free to maximize their full potential and still be able to enjoy motherhood.