This syndicate selectively enforces axle weights, overloaded lorries from the many borders, Uganda being landlocked and a transit route to other states deep in central Africa and those from the coast.
This is not to mention trucker drivers moving site materials. All these lorry operators are immune from axle overload enforcement and its only in Uganda where these truck drivers have managed to miniplate the system.
We have busted a racket where all the truck drivers and operators are paid up members of the racket and each pays a fee of around UGX6m per trip from whatever Ugandan boarder to another, through several UNRA staff members who are deployed on different transit routes

Conversely, those who don't pay up and those who have the misfortune of being stopped by the weigh bridge manning officers do suffer the consequences of exorbitant extortions, scare of one`s truck being impounded or imprisonment of the truck driver; `gamba n'ogu` becomes that solution for the trucker driver to survive losing money to bribery
Most payments are done by mobile money, thanks to technology. In our possession are numbers on which monies are deposited and handwritten receipts similar to those given in retail shops. The same receipts are meant to be automated and with details like the truck weight, entry time and the weight of the merchandise on board, to mention but a few noble details.
This website is aware that this information is well laid on UNRA Boss, Ms. Allen Kagina`s desk but she is yet to act on the same. This stance, probably in emulating President Museveni`s guidance to the IGG on letting the indigenous corrupt be, since they spent their loot within the country!
This Racket of syndicate Corruption, extortion bribery and all sorts of ill manners are being facilitated by lack of up to date axle weights enforcement technologies, and we have gathered that this is a deliberate tendence by those in charge at the UAP Nakawa Business Park.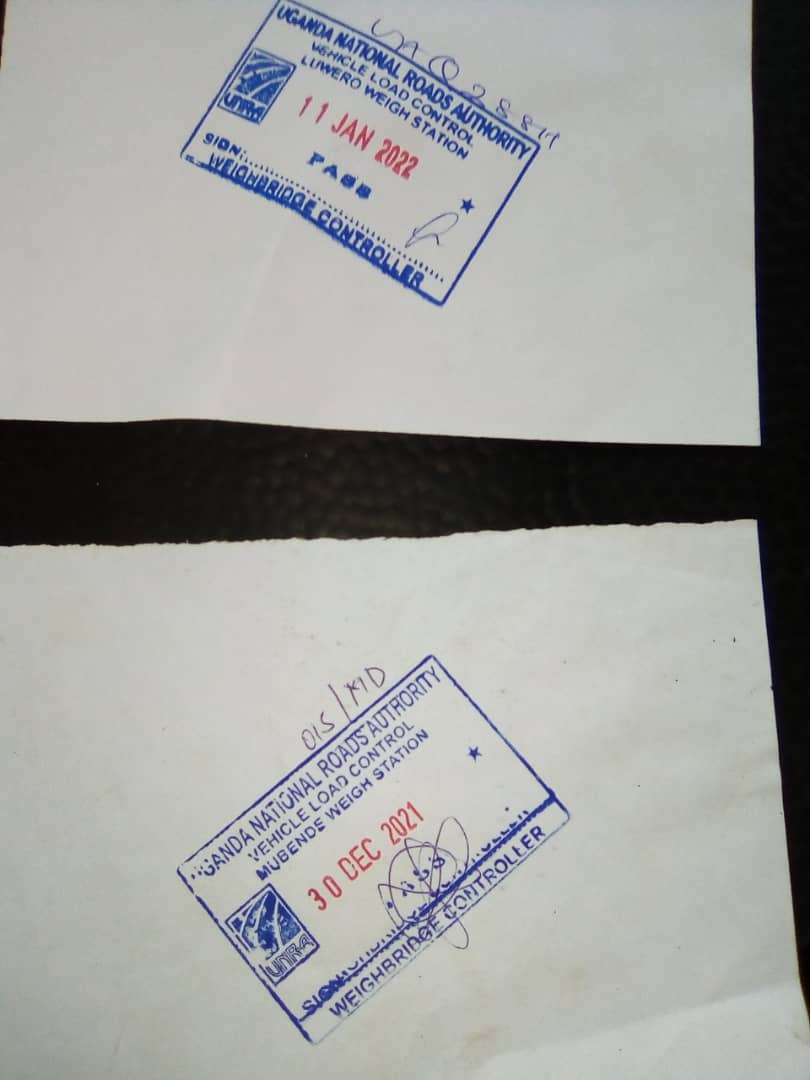 One of the cases under review is where a number of corruption scandals are cited in the weigh bridge procurements. For example, UNRA has a vehicle weights control department that has built a cartel monopoly suppliers and contractors who double as business men and women and at the same time holding contract awarding offices. This cartel involves procurement officers who brought similar tactics of "sex for marks" play at UNRA headquarters.
These notorious tales have led to an overloading syndicate which is now booming ever since government started promoting industrial projects on all the major routes. Roads like Matuga-Kapeeka, Jinja Road, Gayaaza-Kalagi aqnd others suffer regular maintenance yet they never reach their lifespan.
Industries scattered all over the country consume raw materials, carry cargo of their finished factory products, thousands of tons of scrap, construction stones, sand and much more, for their construction projects along these routes. Overloading of trucks is a phenomenon of greed and less patriotic management systems, not forgetting that government workers are often schooled about patriotism in Kyankwanzi and elsewhere.
Our research unveiled that there is hardly any truck overloading in Kenya, Rwanda, and Tanzania. This is not because weight bridge officials there aren't corrupt. It's because these countries` well-maintained High-Speed Weigh in Motion (HSWIM) technology makes it harder.
This virtual weighing technology helps keep record and screening off violating trucks, hence cabbing bribery since there`s a record from all weigh-bridges. Painfully from another angle, there are trucks on the Ugandan road network which are over-engineered and constructed purposely for overloading. Trucks` overloading and corruption has occurred even before the current setup of UNRA.
Eng. John Nasasira's yesteryears ministry of works and transport was the in-charge custodian but during that time it was not so organized, probably because the population of lorries and trucks hadn`t grown to big numbers as compared to today`s.
Government can minimize corruption if at all it is willing to break this syndicated road network thuggery at UNRA. For instance, we have a developing story of double agents in weigh bridge tenders where; `sex for marks` vice is practiced.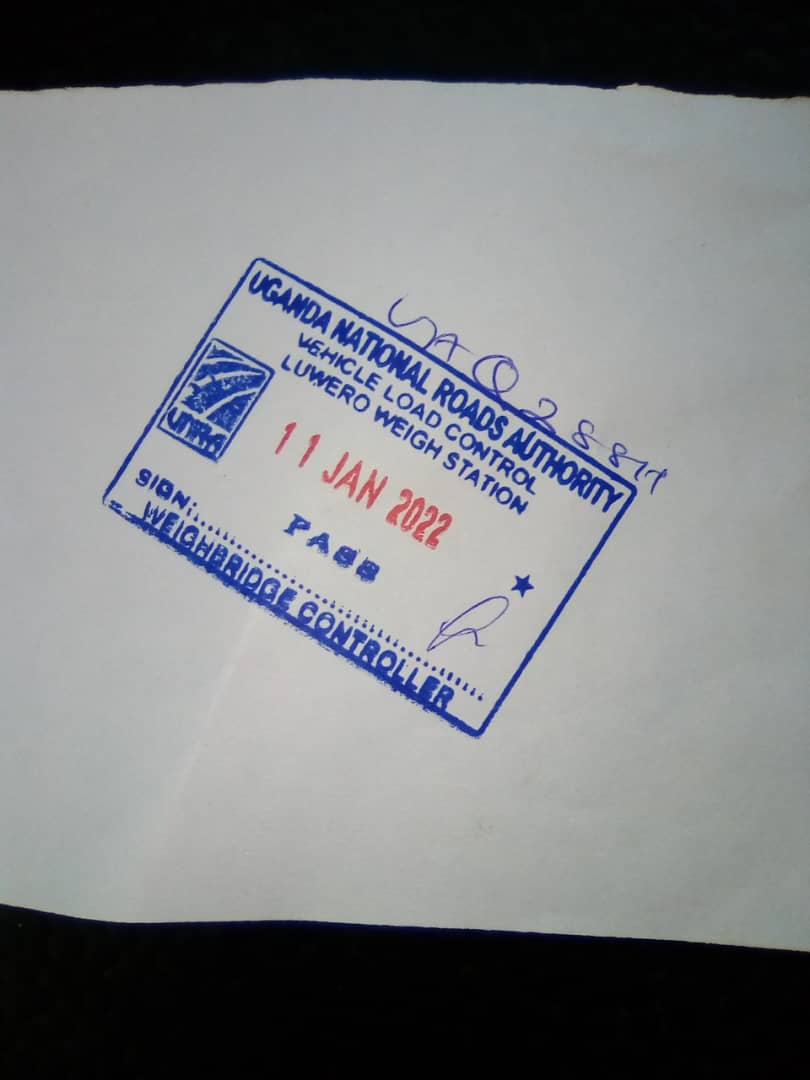 For heavens` sake, one doesn`t need to forge up a sexual relationship with any UNRA official in order to win a tender. This practice has been linked to murders, wreaked marriages, and caused diseases in the institution and the community at large!
Consistent all-weather and strict 24-hour axle weights enforcement that can be aided by embracing up to date weigh in Motion technologies would be a wonder remedy to the problem, just in case Ms. Kagina has the will.
Its real painful for communities living along our sea route as they witness heavy loaded trucks eating away the infrastructure every day. Its common practice for any truck driver to load and collect goods worth three journey carriage into a warehouse at Kenya side.
They would then load all the goods in one go and cross to Uganda. Eye witnesses confirmed to us how they witness trucker drivers reloading three journey carriages on a single truck entering Uganda, after all, truckers are so sure of the bribery on our highways. Centralized weigh in motion data transmission can be a solution to this vice if Ms. Kagina has the will, anyway.
An effective weighbridge network consisting of fixed and mobile systems can as well save the day. Besides the cost of road repair and refurbishment, overloaded trucks take a toll on human lives. More enforcement against overloading means fewer traffic fatalities. Take a case study of the Jinja road highway where we are often witnessing overloaded trucks throwing in the towel before reaching their final destinations.
With more alternatives for land transport, the authorities can afford to enforce effectively, with use of a hybrid system of fixed weigh station and mobile weigh scales and in so doing, create the level playing field where a conscientious lorry operator would not be forced to overload just to keep their cargo rates competitive. And importantly, highway and road users would be safer. Again, this can only be if Madam Kagina has the will, anyway.
Author Profile
Uganda's First online News Paper. "More than Just News" Investigative, Informative, without Fear or Favor