The falsehood is finally known and the state of affairs is very heartbreaking for Uganda Cranes boys and fans. The fans were preparing to once again support, in huge numbers, their team but now they cannot, unless something miraculous happens.
Uganda Cranes will on 12th June play their group `F` Afcon qualification reverse fixture against opponents Algeria, at 'home' away in Cameroon. At least this is what a hastily written statement from FUFA says, as they wished to meet CAF Stadium confirmation submission deadline.
"Today, Tuesday 25th April 2023 being the deadline set by CAF for all federations to submit names of venues to be used for the qualifiers due in June, the FUFA Executive has taken a decision to host the Uganda Cranes next AFCON 2023 home fixture against Algeria, in Cameroon."

Ogwang apologizes
"I am pained to announce that Uganda Cranes' AFCON home qualifier game scheduled for June 2023 will be played in Cameroon for failure to have works at Namboole Stadium completed on time." The Minister in charge of Sports Peter Ogwang wrote on his socials before apologizing; "I take full responsibility and apologize to Ugandans for failing to fulfill my own promise."
However, works remain ongoing and on schedule as per the contract, according to the Minister. "All procurement contracts have been signed but we were only delayed in terms of deliveries which could go up to mid-May. Gov't remains steadfast to ensure that the Stadium is completed without further delays."
Fufa made a decision to host the game in Cameroon after inspecting Mandela National Stadium on Monday 24th April 2023 and confirmed that the Stadium is not ready to host the qualifiers that resume in June. Fufa however, expresses their disappointment at the latest ongoing works, following yesterday's routine site-visit by Hon. Peter Ogwang, FUFA President Hon. Magogo Moses Hassim and Stadium officials.
Shoddy work?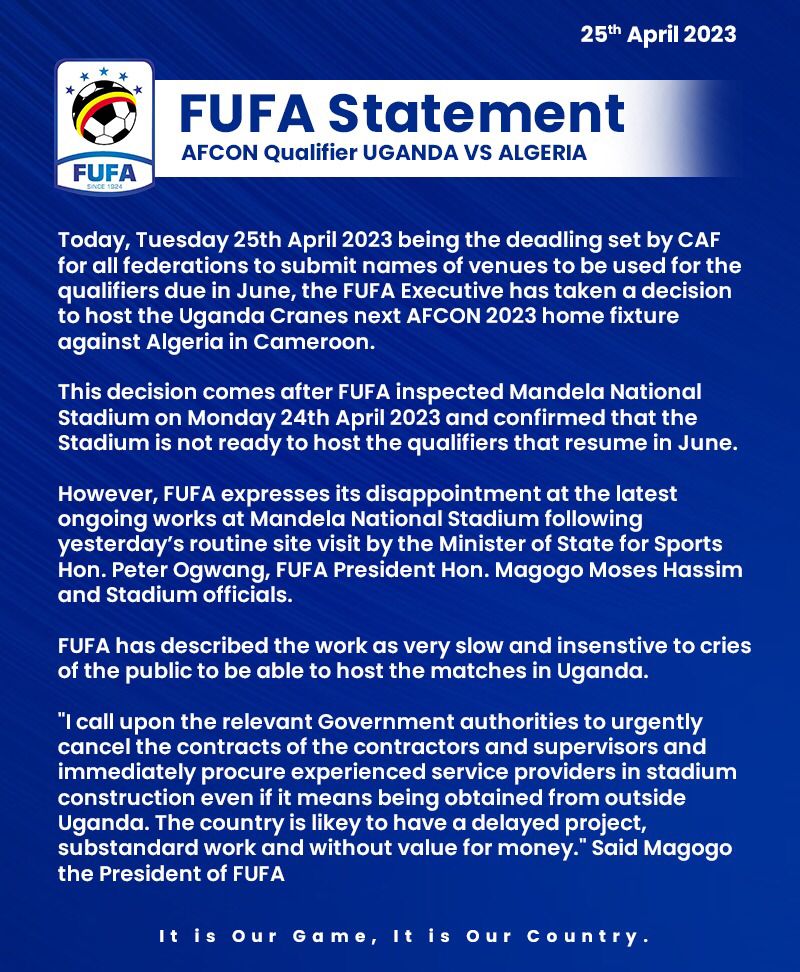 FUFA has described the work as very slow and insensitive to cries of the public to be able to host the matches in Uganda. "Yesterday, before submitting the venue, we decided that we do an inspection as FUFA, on Mandela National Stadium and we realized that there is no progress. On the 4th of November 2021, there was a decision taken by Parliament to give Namboole the money they needed and that is UGX97bn. This money has since been released by the Ministry of finance," he started.
"When you look at the progress of the work being done, there is no significant update. From where we sit as a Federation, we believe that construction of a stadium is a specialized type of engineering. We do not believe that the current contractors and the supervising entity are in position to put up a good facility." Magogo revealed.
"I call upon the relevant government authorities to urgently cancel the contracts of the contractors and supervisors and immediately procure experienced service providers in stadium construction even if it means being obtained from outside Uganda. The country is likely to have a delayed project, substandard work and without value for money." Said a disappointed Magogo. Fufa calls upon all Ugandans to continue supporting the Uganda Cranes from all corners of the world as they struggle to qualify for the 2023 AFCON Finals to be hosted by Ivory Coast next year.
"We had been given the assurance by the Hon. Minister of Sports that Mandela National Stadium would be ready but this is not the case. As the Fufa Executive Committee we have taken the decision that our next game against Algeria will be hosted in Cameroon."
Author Profile
Uganda's First online News Paper. "More than Just News" Investigative, Informative, without Fear or Favor