#UgandaDecides2021: Mr. Didas Byaruhanga is a young enterprising aspirant for the newly created Ruhinda south constituency of Mitooma District that was announced on 30th July 2020 when Parliament passed the resolution to create 46 more constituencies.
The extremely confident stocky man of around 90kgs of weight, a marketer by profession is contesting for the first time of his political career but already exudes confidence of a serial winner.
He is running in a sister constituency of another constituency that was formerly dominated by controversial minister Rtd. Maj. Gen. Kahinda Otafiire who was humbled in the 2016 election by a military officer named Mugabe Donozio Kahonda. But while Kahinda Otafiire is running in another constituency, Mr. Byaruhanga is running against incumbent Kahonda. He however fervently denies that he is either sponsored or supported by Rtd. Maj Gen. Kahinda Otafiire.

He spoke with political journalist for The Investigator Fred Daka Kamwada in an interview in which he made some very interesting revelations as you will read below;
Q; can you please introduce yourself to the readers?
A; Yes, I am called Byaruhanga Didas Kaginda, born in a village called Mutala, Ruhinda county but found within Mitooma district. I am also a marketer by profession with a lot of experience in entrepreneurship.
Q; what makes you think you can manage to represent Ruhinda south constituency more effectively than your predecessors?
A; My confidence in providing effective representation to Ruhinda is derived from the fact that we have a big political vacuum in our constituency. There are so many things we should have had, which we have lost because of poor representation.
Our constituency has been dogged by bickering between our senior political leaders, thus distorting the whole mission. Besides I also derive my confidence to the fact that my father worked so much for this constituency.
He for instance managed to build Nyakita Boarding Primary School where many children including myself managed to acquire education. He was involved in a lot of developmental projects which many people will never forget about him.
So, I stand to prolong my father's legacy of service to the people.
Q; Your father! Why do you think he has a high-profile relationship with the people of Ruhinda?
A; My father was called Jackson Kaginda. He served in former President Amin's army before joining the NRA bush war led by Yoweri Museveni in early eighties. He retired in 1993 and embarked on developing his home area as the LC 3 chairman for very many years before he was summarily assassinated two years ago. The most painful thing is that since his untimely death, we have never had justice.
What I can tell you is that if he had possessed the required education, he would have been elected the Member of Parliament for Ruhinda. Nevertheless, they say better late than never and I, his son, have come to provide the effective representation and service he would have delivered.
Q; You want to go to Parliament yet you sound not to have experience save for that of your father?
A; I have a wealth of experience in business. I own a company called Forbes that exports labour to the external market which I started over two years ago.
We have so far exported over 200 youths to Dubai, Oman, Saudi Arabia and other Asian countries. This employment has changed the lives of so many youths many of whom hail from Mitooma. I am very proud to have changed the lives of so many of these youths. You can go there and verify these facts. You need no experience to identify people's needs. I am already an experience of a leader myself.
Q; Who is your political mentor?
A; My father is my mentor.
Q; Why your father and not any other inspirational figure like Mandela, Nyerere, Obama or even Museveni?
A; It's my father because he was a leader under my close watch. I saw him do practical things on the ground. I learnt almost everything I know from him. Why should I go for people like Obama or Mandela who were miles away from me? We learn from people around us. And I think my father is more of an iconic figure than anybody else in the world.
Q; Do you have faith in NRM and the leadership of President Yoweri Museveni?
A; Yes, absolutely yes! I strongly believe in him as the chairman of the party. There is no way I would run on the NRM ticket and still remain opposed against the party chairman. I think that wouldn't add up.
Q; What programs do you want to bring up that were not done by your predecessors?
A; First of all, I want to tell the readers that our place is a very big coffee growing area. So, I feel obliged to lobby for the institution of cooperative society to first of all, eliminate the middlemen from exploiting our farmers. Secondly, the cooperatives will assist in the provision of marketing services, transportation services and in the creation of processing plants to add value to our products.
Q; Ruhinda is synonymous with the name of Kahinda Otafiire. Why do you think he lost to a little-known soldier in the previous election?
A; I don't really want to discuss individuals. But I can tell you that people didn't vote out Otafiire because of not performing. He was a very useful person to our communities to the extent that all the villages that voted for him have continued to enjoy services like water, electricity, well paved roads compared to villages which voted for Kahonda like Kabira and Nyamuyanja which don't enjoy those services.
So, you can see how friction between the two political heads contributed to the backwardness of the area. You may wish to know that even today, Kahinda Otafiire Is still contributing to his people.
Q; Do you think Otafiire will bounce back?
A; I don't want to go into the details but I think the people still love him. I think they had voted him out because of fatigue of seeing the same person in the same docket for many years. He was a victim of a lousy conspiracy of fatigue. But I think the people have realized how important he was and will certainly vote for him.
Q; are you running against him then?
A; No, he is running in another constituency whereas I am running in a newly created Ruhinda south constituency. So, there is no way of a clash between him and me.
Q; Are you a Kahinda Otafiire product then?
A; Not at all. He is not involved either remotely or directly in my political campaign. I am running my own show. Of course, I don't rule out on the aspect of his moral support. But that is where it ends.
Q; what are your views about the Ugandan parliament? Do you for instance support things like lifting the age limits which were done by parliament?
A; Yes, I strongly support what parliament did in lifting the age limit. I even agree with the lifting of term limits because I belong to NRM.
Q; As a country, what should we expect from you?
A; Of course, you should expect effective representation from Byaruhanga Didas. I will undoubtedly add value to the Ugandan Parliament. There is no questions about that. Just watch the space. Thanks for your time.
Author Profile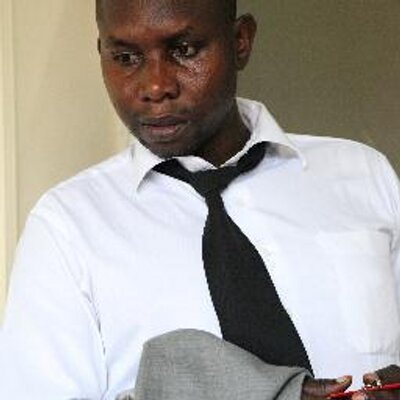 Fred Daka Kamwada is a seasoned journalist, blogger and political analyst for over a decade in Uganda