Being born again Christian is now one of the unwritten, but first requirements to get a job in URA, NIRA, KCCA, SFC and other government Authorities, Departments
During Gen Elly Tumwine's funeral, President Yoweri Museveni revealed that if it was not for the grace of God, it would have been impossible for them to successfully launch the 1981-86 liberation bush war. He actually mentioned the word God twenty times and insisted that there was God's hand at every corner of the way to the attack on Kabamba barracks and the eventual capture of power on 25th January 1986.
The Background
During the preparations to attack Kabamba, Gen Museveni and his co-conspirators converged at Mathew Rukikaire's home in Makindye. He says that they made the grand plan to attack Kabamba because it was the place where the UNLA had stored the guns they had disarmed from them (FRONASA's 9000 men). At that time, there were two factions that had participated in the overthrow of President Idi Amin, Dr. Milton Obote's Kikosi-Maluum and Museveni's FRONASA. When the Tanzanians eventually chased Amin away, they handed over the country to both aforementioned factions and advised them to form a national army.

But since Kikosi-Maluum had an upper hand in the whole process of reorganizing the Uganda army, they managed to control everything that went on and embarked on recruiting a national army by selecting soldiers from Kikosi-Maluum and FRONASA, and took them for training in Jinja and Munduli in Tanzania. The late Gen Elly Tumwine was one of those who qualified to attend training in Munduli from Museveni's FRONASA. Others like the late Gen Fred Rwigyema were disqualified by Gen David Oyite Ojok on account of being non-Ugandans. The Obote camp made fighting Rwandese their first political objective and went ahead to disarm all of Museveni's men. Out of the 9,000 men, only a handful were maintained in the army. Today, you can talk of Gen. Mugume and Gen. Ivan Koreta as the few survivors from the Museveni camp.
After disarming them and stopping them from joining the National army, the UNLA officers started targeting members of FRONASA. Most of them were killed and their leader, Gen. Museveni, who had been appointed as the defense minister in the UNLF government, was once arrested at Kireka roadblock. It is widely believed that there were orders from the UPC leadership to have Museveni killed on sight. But he was saved by Salim Saleh and Fred Rwigyema from the jaws of death. Consequently, Museveni who had also held the position Vice Chairman of the Military Commission that oversaw the 1980 elections, was told to vacate the government house.
Museveni himself writes in his book; `Sowing the Mustard Seed` that he went to the Conference Center to talk to President Milton Obote about something. That he found Obote lying on a bed, side by side with Chris Rwakasisi. Museveni says that Rwakasisi told him something that annoyed him so much to the extent, he left the Center with war on his mind. Incidentally, although Museveni doesn't reveal what Chris Rwakasisi told him that annoyed him so much, UPC insiders told us that he had openly told Museveni that all non-members of UPC politicians occupying government houses had to vacate them with immediate effect.
Therefore, Museveni, who was not a member of the UPC had to vacate the house he was occupying in the Kampala suburbs of Kololo. And indeed, Museveni and all others who were not members of the UPC were forcefully evicted from the government houses. This partly explains why they had to converge in Mathew Rukikaire's house to launch a resistance war. It is widely rumored that Tanzanian President, Mwalim Julius Nyerere had advised President Obote to give Museveni and his group some jobs, but Obote declined by insisting that the jobs were for UPC members because they had won the 1980 elections. To cut a long story short, after the December 1980 elections, Museveni and most of the members of his FRONASA had no jobs or even houses in Uganda.
The Janet Story
The First Lady, Janet Kataha Museveni writes in her book MY LIFE'S JOURNEY, that those were the darkest moments of her life, because she never knew where they were headed as a family. Most of her friends and family showed no concern for her. She rang her uncle, John Kazoora who was in London but he told her that he had nothing to do for her since her husband had become a guerilla! In the end, the Ndugu Ruhakana Rugunda and Amama Mbabazi managed to organize resources to send Janet to Sweden where, she spent the five years of the bush war when the NRA overthrew UNLA.
Museveni`s Scanty Religious Beliefs
At first, Gen Museveni was not known to attribute the success of the NRA to God. In the most recent years, Museveni actually told the religious leaders that he never believed in heaven or life after death! But this time round, he emphasized that the war project couldn't have worked out if God was not part of it. He actually told the mourners that even the attack on Kabamba couldn't have taken off, if it was not for the hand of God. He said that his car broke down and had to walk 30 miles from Katigondo to Nyendo in Masaka, to convince the then Masaka Town Clerk, a one Ruyondo, father to Kwame Ruyondo, to borrow him the car, on the pretext that he was going to attend a wedding.
Museveni says that if it was not for the hand of God, perhaps he might not have found Ruyondo to give him the car that helped him link up with the group that attacked Kabamba. He also affirmed that God used the late Tumwine to shoot the first bullet that somehow antagonized their mission of getting so many weapons, because they actually had no manpower to handle them. In other words, if they had managed to get all the guns that they had targeted, they could have been encumbered by the lack of men to this huge overload of guns which would probably result into their capture.
Almighty God was Key:
On her part, the First Lady asserts that when she lost her father, she adopted Jesus as her father, because he doesn't die. Actually, if you read her book, she reveals that when she lost one of her dear relatives, she castigated God because she loved the deceased so much. She questioned why God would do such a thing. But later on, when she reflected on her life, she couldn't see how the events of her life could have turned out from being homeless, running into exile and eventually returning as the First Lady, without the intervention of God. On her part, she has been very consistent with her association with God. She has managed the born-again fraternity with a lot of passion and is widely known to be on talking terms with all the senior pastors in the country.
Evangelizing Uganda
President Museveni himself started the process of evangelizing the country a long time ago. This is when he suggested that it was easier to fight corruption by appointing born-again Christians in government positions. He then recommended that being born again should be the first requirement for someone to join Uganda Revenue Authority. This stance, because he believed, Ugandans from other religious affiliations or the lack of it were very corrupt.
The same requirement has cryptically been asked of recruits for KCCA, URA, NIRA, SFC, and many other government departments. This explains why you find that many Ugandan soldiers are born-again Christians. The late Gen Elly Tumwine himself was a staunch born-again Christian, and his funeral was characterized by Christian songs.
Silent Discrimination:
This is not to say that it's a crime to be born-again. But it raises qualms that if the Head of State and his family and friends subscribe to a given faith, then it's possible that they can translate it into a State Religion. Even if it is not translated into one, the biggest danger of such a tendency is that it leads to discrimination in job opportunities. You don't need to be a rocket scientist to deduce that an Atheist (like yours truly) stands no chance of working in Museveni's government, even if he, for instance, supports them wholeheartedly. Why? Because an Atheist is regarded as a pagan who shouldn't get anywhere near them evangelicals.
The Precedence:
President Idi Amin set a precedence when he made Uganda an Islam Religion State by appointing Muslims in almost all sectors of government. At the time of his fall in 1979, Amin had conscripted Uganda into the community of Islamic nations. The Ugandan government still receive funds as a member of the OIC (Organization of Islamic Cooperation), an instance that was propagated by Gen Idi Amin. There are strong suggestions that Amin was about to openly declare Uganda as an Islamic State. Despite the fact that Uganda is largely Christian oriented with almost 80% Ugandans subscribing to Christianity, Amin was able to defy that reality and made Uganda a Defacto Islamic country.
The only lacuna that stopped the possibility of a fully-fledged Islamic State was by lack of a legal backing to make it a formality. Right now, Uganda could be in the similar situation of being majorly run on the evangelical foundation. And unlike President Amin who was confronted with the reality of lack of numbers to justify making Uganda an Islamic State, Museveni has the numbers on his side and enjoys complete control of Parliament. Although Uganda is legally a secular country, such manipulations cannot be ruled out completely. Going forward, Ugandans need to expose and stop the complete evangelization of the country. Jobs should not be given exclusively to born again Christians as it is today. We need an all-embracing dispensation that is open to all Ugandans irrespective of religious beliefs, Atheists, believers or non-believers combined. Personally, I am an Atheist who has suffered deliberate discrimination because of my status.
Author Profile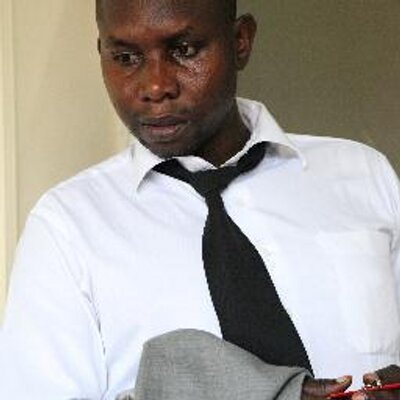 Fred Daka Kamwada is a seasoned journalist, blogger and political analyst for over a decade in Uganda