Mestil Hotel and Residence's Proprietor Janet Kobusingye could virtually do whatever thing to defeat anything and or everyone she so wishes. And why not? She is highly connected and with watertight protection from every corner.
And, it's with this status that she reportedly planned to defeat Nakawa West's Legislator, Joel Ssenyonyi-chaired Parliamentary Committee on Commissions, Statutory Authorities and State Enterprises (COSASE) last year. Indeed, it was all shock for COSASE members to learn, as they cross-examined the Nsambya-based hospitality facility owner, how she acquired four acres of government land, previously owned by Uganda Railways Cooperation (UR), onto which, her Luxury Hotel sits, without payment of any premium.
They got shocked as the lady planned a good lie all by herself, yet with aggregate unremorseful, and delivered it to the committee, saying that all the required documents, like agreements detailing the sale and purchase of Naguru and Nsambya plots, were destroyed in a fire incident, complete with the land titles!

This was after the Committee's Hon Roland Ndyomugyenyi (Indep. Rukiga County), had asked Kobusingye to avail the sale and purchase agreements, plus the titles detailing how she attained the Naguru land. In further probing, the committee discovered irregularities especially how the Mestil Hotel owner controversially acquired an additional lease extension of 49 years, and later 99 years without payment of any premium for the land in Nsambya.
Nonetheless, even as the committee gave 14th February 2022 as the deadline when the lady would produce the sales agreement, nothing has been known until now, owing to the fact that Hon. Ssenyonyi's committee has not come up with a conclusive result pertaining the ownership deeds of the land onto which Mestil Hotel sits.
Your mighty website – The Investigator however went down to work. This stance, to firstly find out who exactly Janet Kobusingye is and where she derives the powers she wields. It is an exclusive and mysterious story of a well-connected business lady who is not only a supposed top liar, but also a defaulter candidate, thanks to her connections.
A source privy to Kobusingye tells us that she is a Ugandan of Rwandese descent, with close relations to Rwandan fallen war general, Fred Gisa Rwigyema. We uncovered how she defaulted URA, taxes worth millions of dollars and how she has deliberately not cleared, to zero balance, fares that she is obliged towards Roko construction Limited. With the latter, at least as agreed in the double project construction contracts of the Mestil Hotel and Residence's site in Nsambya.
Digging deeper into her person, Kobusingye, the available information shows, was once close to, and a business associate of Rwigyemas especially as a shareholder of the Jaguar Executive Coaches, jointly with the First family across. At some point Rwigyema`s widow, Jeannette Rwigyema spent days being questioned about her friendly relations with Kobusingye, the owner of Jaguar Executive coaches, and Riviera school in Rwanda.
In the early 90's, Kobusingye, who had prior settled in Uganda, reportedly fell out with the Kigali administration and her family fled back to Uganda. Like any business person who fallout with the Kigali, her posh and first-class boarding school, Riviera, was grabbed and it's now owned by other strong elements there.
The supposed cunning Kobusingye couldn't waste time on grieving for the split milk in Rwanda. She also, supposedly grabbed and took over full ownership of the Jaguar Executive Coaches shares to Kigali people`s disappointment. It's also alleged that since 2017, Janet Kobusingye has been blacklisted, under the strict instructions of Kigali Administration.
Back home, those close to Janet Kobusingye have gone through harassment and persecution, including Jeannette Rwigyema dubbed the mother of the nation. Kobusingye's close business associate Jeannette was once taken to a Nyarutarama DMI safe house in Rwanda, for questioning on her close relationship with Kampala and the First Family there.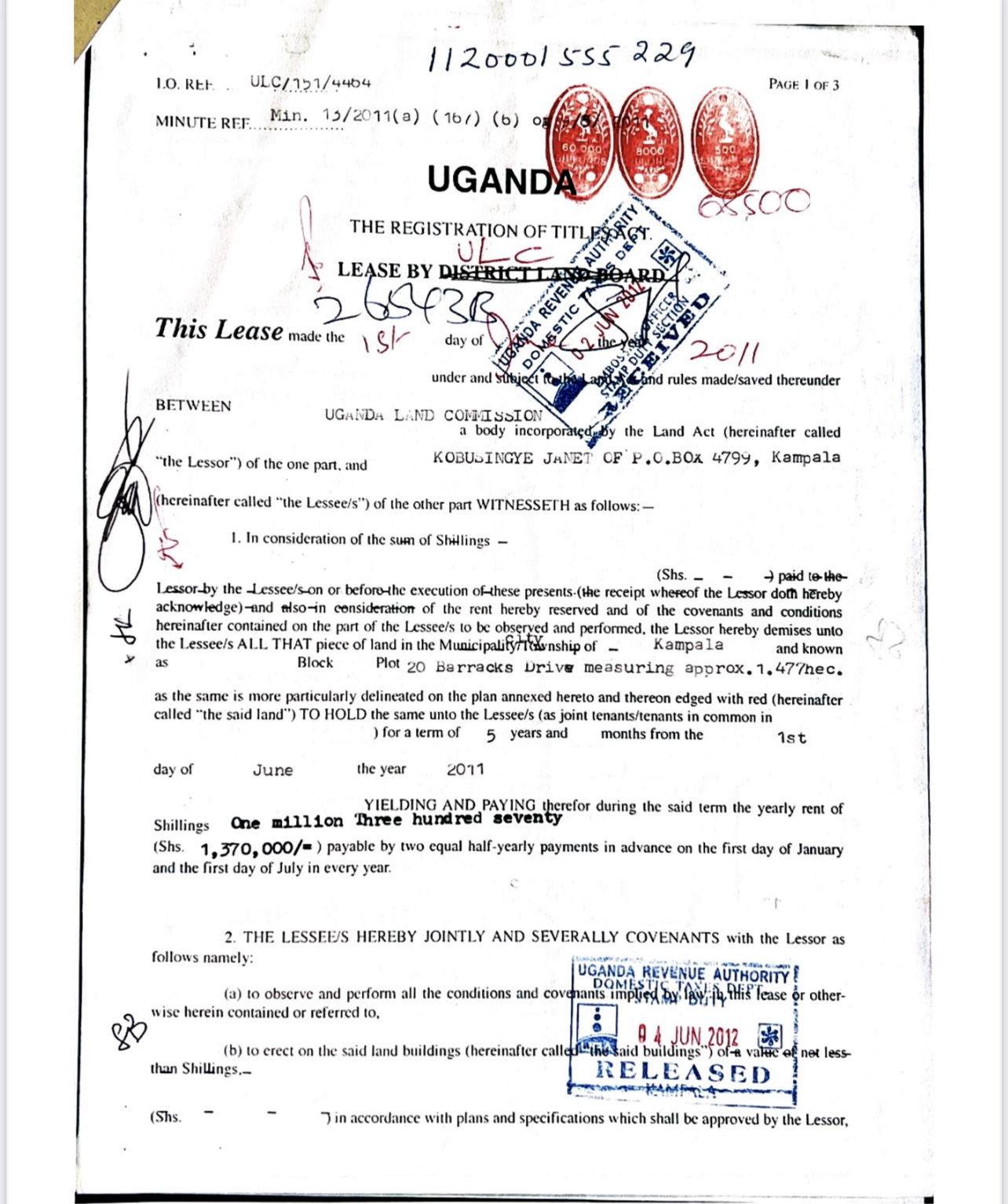 Back to COSASE probe
Our source also faults the Parliamentary`s COSASE for trying and failing to investigate how different, people acquired huge chunks of land belonging to the Uganda Railway Corporation (URC). "The problem is our MPs on the Committee. They have been inconclusive through their probing sessions, something that worries so much. Nsambya Land is an issue of public interest whose probe results and report has been defeated to-date." Our source who cuts a nagged facial expression says.
While appearing before COSASE for the second time in February 2022, prior to the maiden appearance in November 2021, Kobusingye said that the 3.6-acre land that she acquired in Nsambya, a key city conurbation, was as a result of the compensation from Uganda Lands Commission (ULC) for her land in Naguru, also an affluent residential area, taken over by government.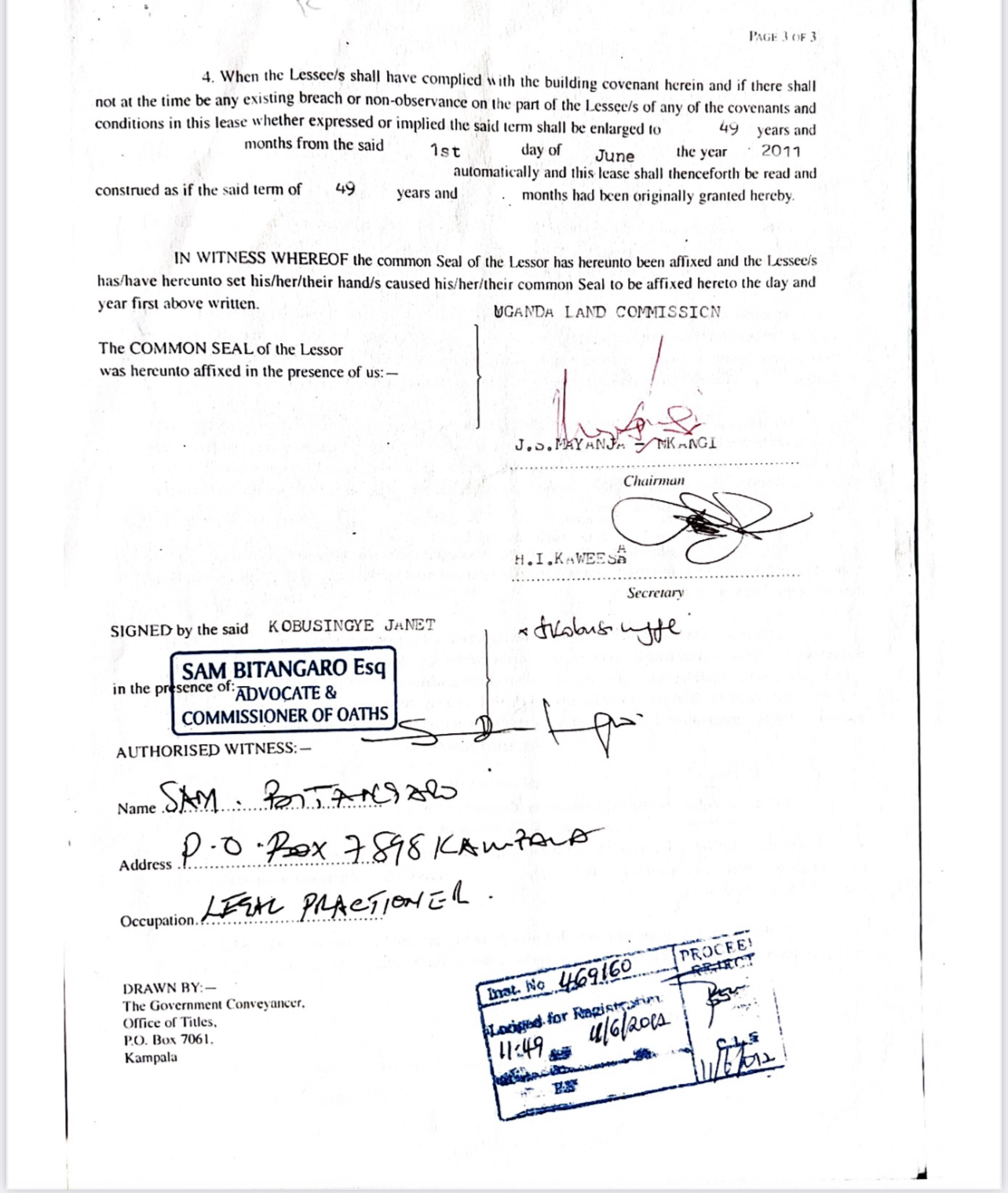 According to the court order, government was to process a Certificate of Title to Kobusingye for only 10 years at no additional premium and therefore, any additional lease variation was to lead to fresh negotiations between the businesswoman and government. Legislators discovered that there was no way Kobusingye would acquire a new lease for 49 years and later 99 years without fresh evaluation of the land and premium payment negotiation unless it was agreed upon by ULC.
Kobusingye expressed ignorance on the matter, saying ULC would be in a better position to explain premium exemption on the extended leases. She confirms that ULC gave her the lease extensions without any clause on premium payment. She maintained that by the time she left Naguru, she had invested too much money. She cited how she had done the plans, concepts and involved all the stakeholders for the architecture, which was all stopped, something she related to why she was maybe exempted, out of pity.
COSASE Chairperson, Hon Joel Ssenyonyi, then said it was impossible that Kobusingye was exempted from paying premium due to goodwill because court had clearly ruled that she is compensated with a 10-year lease free of any premium. The committee questioned how Kobusingye got Nsambya land worth UGX69Bn as compensation for Naguru land which is worth UGX1.5Bn! The committee also cross-examined officials of the Ministry of Finance, Planning, and Economic Development to understand more about the Uganda Railways land sale.
After, she told the committee that it was even, agonizingly difficult to trace documents related to that land, since all her aides and brokers with whom she cooperated in the purchase, had died, while others disappeared mysteriously, something that sounded a big planned lie. The Investigator can reveal, and build fresh to the lie that has led Kobusingye to defeating the COSASE. We can authoritatively reveal that there was never any fire which Kobusingye claims, destroyed the documents, including the titles. To this end, we herewith produce a copy of the very available titles. Details for another story.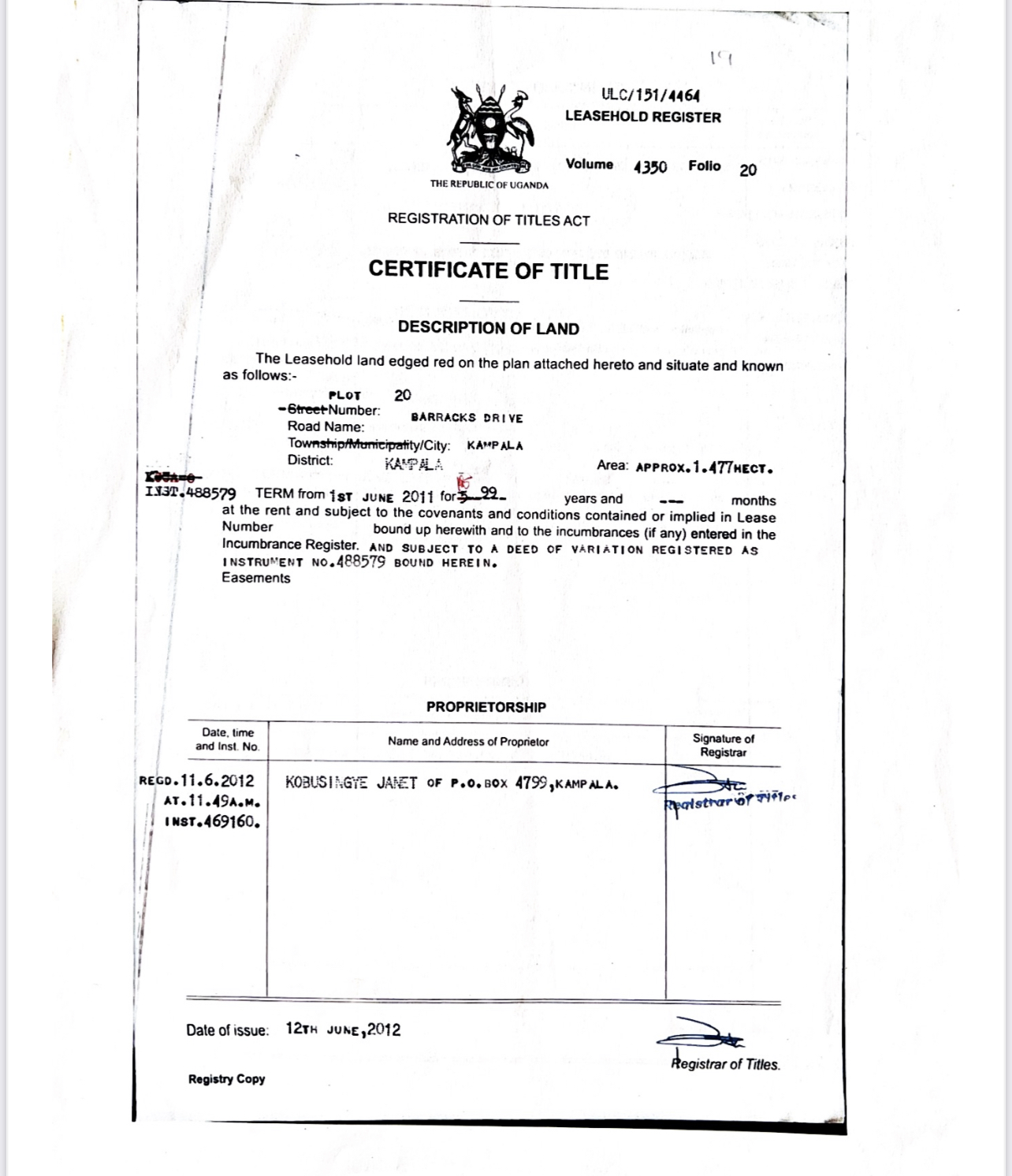 But of course, some members of the committee discovered and hinted on how Kobusingye could have tried to execute a cover-up mission by saying she didn't possess any receipts for the UGX1Bn, which she paid to purchase the land in Naguru. First, our source tells us, Kobusingye is a well-connected personality with backing from top government big wheels. So, she knew and still knows nothing could jeopardize her projects even if she was found insincere.
In a related development, its alleged that Kobusingye seems to have defaulted on the URA tax fares of purchase of construction materials of the Mestil Hotel and Residence, the double projects worth millions of dollars. The source also told this website how she deliberately, has not fully cleared Roko Constructions Limited, their construction project quota funds to-date.
Located on Plot 20, Barracks Drive Nsambya, the Hotel site was started in April 2014 and completed in 2018. Since then, Roko is yet to get full pay by Janet Kobusingye (Client) as payments for construction of the then proposed serviced apartments at Nsambya.
Put to Task
Our source, of course anonymous in nature, but knowledgeable about the parties involved (COSASE, Kobusingye, URA and Roko Construction Limited), challenges and implores each of them to come out clear on the matter and challenge the allegations put up against them. "If possible, let them challenge and prove me wrong. I know URA, Roko Constructions Limited and COSASE won't be comfortable talking about it for reasons best known to them. But they should all come out with clear comments because this is an issue of public interest that needs clarity."
Author Profile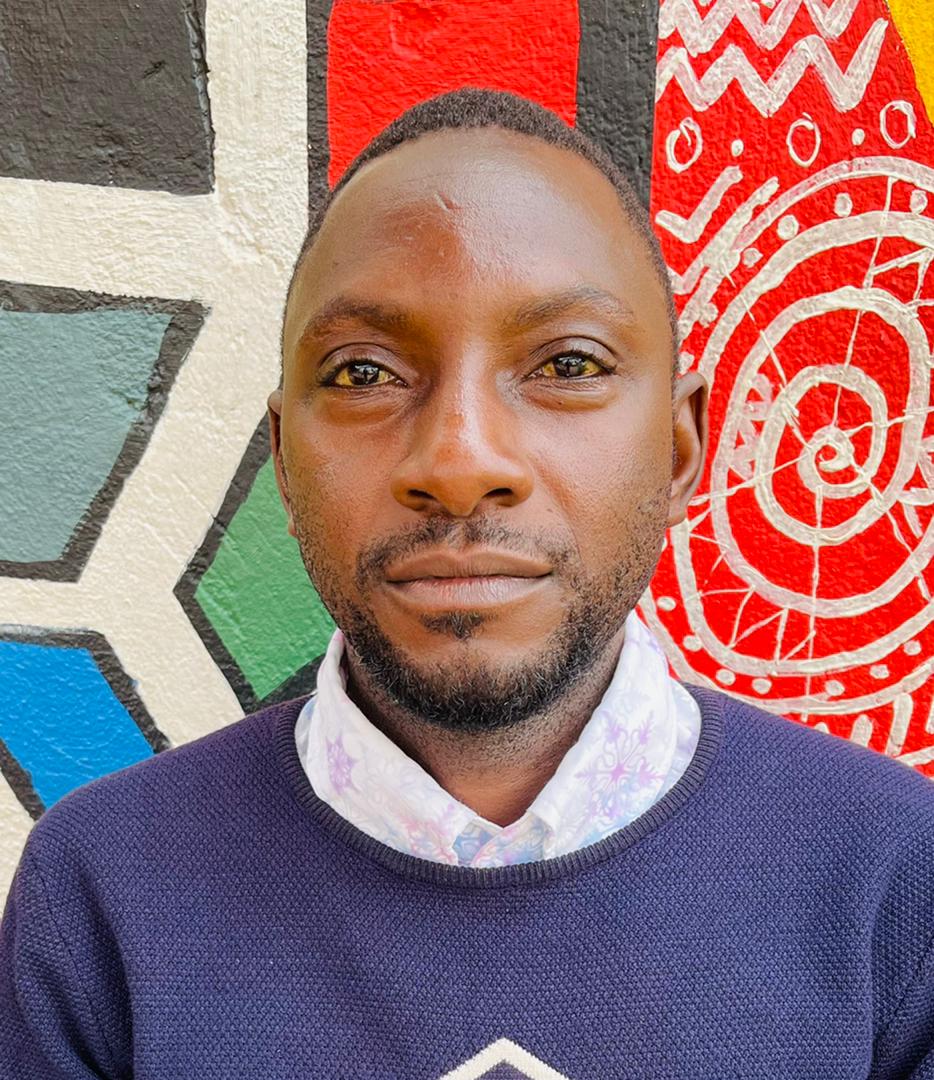 Mr. Daniels N. Tatya is an affluent Sports Writer, Commentator and Editor. His over 15 years of covering almost major sporting events makes him a revered and an authority on investigative Sports journalism in Uganda. He can also be reached via [email protected] +256(0)758268315