The hopes of embattled Kampala lawyer Felix Kintu Nteza to have his ongoing proceedings in the Buganda Road Chiefs Magistrates court stayed faced a setback on Wednesday when Justice Isaac Muwata postponed his ruling on the matter until October 11, 2023.
Nteza, renowned for his signature black suit and dark black shoes, arrived at the court filled with expectations, believing that he was on the brink of a breakthrough despite the early morning haze that enveloped Kampala.
However, the appellant's anticipation turned to disappointment as Justice Muwata announced that he had yet to conclude writing his ruling on the case. Nteza's initial enthusiasm quickly faded as he absorbed the harsh reality of the situation.

Nteza had submitted an application to the High Court, seeking to halt criminal proceedings against him in a case where he stands accused of fraud related to a 2013 land transaction in Wakiso District. The lawyer, who operates under the banner of Kintu Nteza and Co. Advocates, is alleged to have obtained 195 million Ugandan shillings under false pretenses from Interlink Education Services Uganda Limited. This case is currently before Magistrate Fedilis Otawo at Buganda Road Chief Magistrates court.
In his High Court application, Nteza vehemently claims that he is being maliciously prosecuted concerning a land transaction in which he was neither the seller nor the recipient of any money from the complainant, but merely served as a witness. Nteza contends that disputes arose between the purchaser, Interlink Educational Services Uganda Limited, and the seller, Eva Nannozi, along with her 12 siblings, following the 2013 sale transaction. This led to a case being filed in the High Court's Land Division.
In the ongoing Magistrates Court case, Interlink Educational Services Uganda Limited is seeking a refund of 195 million Ugandan shillings, with the proceedings yet to reach a conclusion. According to the prosecution, Nteza is accused of committing the offense between August 27, 2013, and August 5, 2014, within his office premises at E-Towers in Kampala. It is alleged that he acted with intent to defraud 195,000,000 Ugandan shillings from Interlink Educational Services Uganda Limited.
Nteza is accused of falsely representing that the administrators of the Estate of the late Kamya George were selling property within Busiro Block 220, Plot 64 in Gimbo, Wakiso District. The case continues to unfold as the legal battle between the lawyer and the prosecution persists. As Nteza awaits the High Court's decision on the stay application, the legal community and the public alike are watching closely to see how this high-profile case unfolds in the coming weeks
Author Profile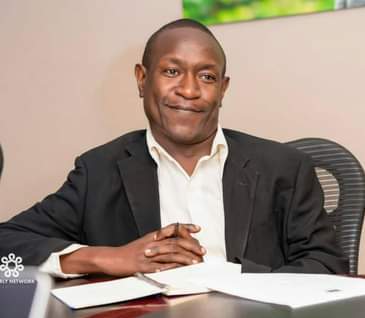 Mr. Jacko David Waluluka is another unique entertainment and general investigative news writer, a field he has diligently covered for over fifteen years. He's also the Chief Administrator at The Investigator. He can easily be reached via [email protected]