Barely 48 hours after boasting of authority, Andrew Jjengo, the senior pastor of the Revival Church Ministries Kawaala, has eaten his humble pie and confessed that he doesn't have any administrative rights over Pastor Augustine Yiga, his late father's Estate.
This revelation has come to light after one of his late father's confidants, a one Kojja Kimbowa, who had been handpicked by Jjengo to run their ABS TV station, threw in the towel. Kimbowa, alleges that though he had reached a gentleman's understanding with Jjengo to oversee business at the station, he had been disappointed and disabled by a caveat placed on Yiga's Estate.
And, as if to give credence to Kimbowa's statement, Pastor Jjengo also, on Wednesday, while addressing the press at his Kawaala-based Church offices, confirmed that he had been financially disabled by his family members, of the same issue. "I did not want to say this. But it is sad I have to say, some of our own family members decided to go to court and put a caveat on my late father's property. This means that I cannot access money to run these businesses efficiently."

Jjengo added that he has been dragged to court by some of his 'mothers' for not taking care of his siblings and wondered how they expected him to continue doing so minus having access to the funds in their various bank accounts. "I have been imprisoned four times ever since my father died, due to claims that I have failed to fend for my siblings. I have to pay over UGX40m. Where should I get this kind of money!"
A teary Jjengo then told all and sundry that he had given up overseeing his father's estate and that he will only do so again, if he is granted administrative rights. However, a church member who preferred anonymity confided in us that if Pastor Jjengo had sought the guidance of Pastor Aloysius Bugingo, on how to run the Church and the estate, he wouldn't be marshalling a sinking drop.
It should be noted that on 28th October 2020, during his visit to the bereaved family and congregation, Bugingo confessed that he had never, at any one time, met Pastor Andrew Jjengo. Bugingo at the time told Jjengo that in case he needed advice in regard to running the Church and his father's investment, his doors will always be open. Bugingo then quoted Romans 8:14 which says, ''for all who are led by the Spirit of God are sons. For whosoever are led by the Spirit of God, they are the sons of God… Those who are led by God`s Spirit are God`s children…''
Author Profile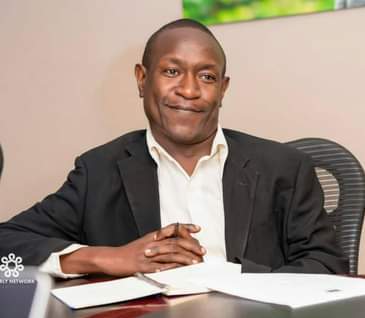 Mr. Jacko David Waluluka is another unique entertainment and general investigative news writer, a field he has diligently covered for over fifteen years. He's also the Chief Administrator at The Investigator. He can easily be reached via [email protected]