Veteran Singer Fred Hope Mukasa is torn between a rock and hard place! This comes after it dawned on him that his squeeze Fiona Walusimbi, the one he had reluctantly ignored as she took refugee in one of the apartments belonging to his Ex – Wife, Sheena Nakimuli Mukasa, faces a second record eviction in less than a week, the Investigator reports.
This follows Fiona's decision to seek refuge at Sheena`s place, the same that used to be home to her and the ex-husband Hope Mukasa in Lungujja. Mukasa is father to Fiona`s three children. Fiona took the delicate decision after being evicted from a house in Mengo where, she had been tactfully, but illegally 'housed' by Mukasa. The house belonged to his cousin, Dr. Edwin Kulubya Mugambe with whom, they hit an irreparable snag.
On that fateful day, Mukasa abandoned Fiona along with the children but later, some man came and drove the kids away, leaving her in total suspense. Confused to the borne, Fiona made up her mind and went to Lungujja. On reaching the plush Block 1, plot 405 and 406 late last Friday evening, she took habitat in one of the vacant apartments on plot 405, incidentally, belonging to her co-wife Sheena.

It should be noted that following a divorce case settlement judgment, it was resolved that Sheena retains plot 405 with its tenants, while Mukasa does the same with plot 406. So, when word went around, of this development, owing to the fact that the said property doesn't belong to Mukasa, all hell went loose after Sheena`s lawyers and family sent a stern warning to him to remove his 'wife' from the same.
A shamed Mukasa, then went on bended knee and begged all and sundry that he is given some time as he solicits for funds to build a home for his new 'wife' and children in the areas of Mukono. However, Mukasa was further surprised and stupefied when his own elderly linage members told him that it would be total disrespect to keep his 'wife' on the property any longer, as it belongs to his elder children and not Fiona.
It has now emerged that Mukasa has tasked house brokers to zero in on any rental house from where, he can `temporarily` put his family, following impending word filling the space that the court bailiffs are in advanced plans of throwing her out. Incidentally, Mukasa lives alone in one of his apartments on the top flow of his 406 premised flat.
Author Profile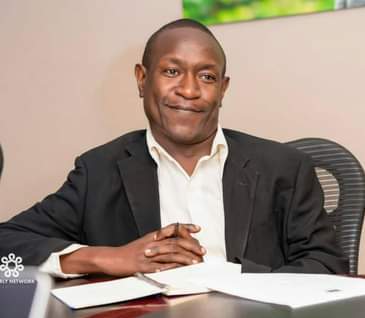 Mr. Jacko David Waluluka is another unique entertainment and general investigative news writer, a field he has diligently covered for over fifteen years. He's also the Chief Administrator at The Investigator. He can easily be reached via [email protected]