Last week, some individuals at Kawempe Police got accused of protecting Jamilah Mukasa Hamudu, the estranged wife to Kampala Businessman and cosmetics guru, Salongo Kasawuli aka Samona, of Samona Products.
Jamilah is a prime suspect in a car loan pawn scam that has hit Kampala and its suburbs of late. She is said to be working in tandem with a one Shakira Namusoke and Michael Kaweesi. The latter poses as their professional driver. The trio has been accused by Sarah Nakayiwa of Nsambya, for having illegally pawned her car, a Toyota Platz, registration number UAX 430V.
Posing as a Diaspora returnee, Jamilah had `hired` the car on a self-drive basis on 31st December 2022, for an initial five days at a fee of UGX100K per day. In her curious talk with this mighty website, Sarah shared her ordeal. Following is her chilling story;

The Story
Sarah confesses how she procured the Platz car in 2019 whilst in Masaka as a business investment to enhance her family livelihood. Indeed, she at the time signed it for the then lucrative Uber pick up service. But with time, she realized that the returns were minimal. After advice from friends and associates, she was advised to channel the car into a special car hire service.
It is then that she took on Mr. Paulo Kiwanda to manage the new business in Kabalagala, a city suburb, which was said to be a prime spot for such a venture. It is during his quest to transact business that on 31stDecember 2022, when two ladies and a gentleman approached Kiwanda claiming that Jamilah was a Diaspora returnee who wanted a self-drive for five days, he never hesitated, especially after agreed to recording their particulars.
As a routine, Kiwanda asked for details of the new clients whose initials stated; Mukasa Jamilah Hamudu, Namusoke Shakira and Kaweesi Michael the driver. Photocopies of their identification were made and retained as reference alongside their phone numbers. Jamilah then made an initial deposit of UGS300K, promising to clear the rest in due course.
"However, the five days elapsed with our calls to the principal party (Jamilah) always claiming to be busy minus remitting any money to Kiwanda forced us to open a case of car disappearance at Kabalagala police." The police in a bid to garner evidence, went viewing the surveillance camera footage. The investigating officer asked to pay UGX120K for tracking the phone numbers and another UGX110k for URA car log book search certification.
"He later contacted us with a report that the car had last been driven on, or about 1st January 2023. We were advised to seek the services of another tracker, this time round from old Kampala police station who also asked for 200k." The same officer later called Sarah to Old Kampala police station. "We jumped on a boda-boda but whilst on our journey, he called to ask for UGX1M!" She told the Cop how she didn't have that kind of money before he settled for another UGX200k.
The next day, the officer called saying he needed UGX150k as transport to a number he had tracked belonging to a driver who knew where one of the suspects resided. With funds running low and the police maintaining their sluggish status quo with little or no help but continued demand for facilitation, Sarah lost hope in the police.
She elected to embark on a personal vigilant clandestine amateur investigation. "We started with the Cheque leaf she had given us which led us to Centenary bank where we established that the account was existent but with no credit in." Though the cheque had been tactfully dated 26th January 2023, a bank holiday, the bankers informed them that it still would be valid for the next six months.
"Thereafter, we were advised to try and trace the personal details on the national ID of Jamilah Mukasa Hamudu. This led us to Namugongo, where miraculously the local Council Chairperson affirmed that the lady in question was his resident and that she was the cosmetic magnet, Samona's wive."
The lady Chairperson however requested them to return the following day. "On the D-day, we were led to the said residence by the LC where we found a young man who informed us that his mother had travelled to Nairobi, Kenya." On confirming that it was Samona's wife they told the young man how they were headed for Samona's offices to appraise him of the matter at hand.
"Shockingly, we received a phone call from one of the numbers that had been used prior, requesting us not to contact Samona but that the said car had been pawned by Jamilah to a Loan Shark, one Matovu Lubega and that it was parked at his office in Kyebando." They went and scouted the area before officially reaching the secluded 'office' which was indeed a parking lot with a huge cache of cars. "We also spotted our prized ride."
At Lubega's place, they were informed by his son who manages the loans section that the car in question had its effects like a log book, and agreement staked for a loan of UGX4M. "Despite our demand that the car is released to us, the son refused arguing that he lacked the jurisdiction of doing so. We then insisted that he call his father (Lubega) or we proceed to police." He kowtowed after the latter threat.
On arrival he said that he was tired of hearing Jamilah's car issues, since her group had already caused him trouble with the police and that it had already confiscated three cars in the same manner. The money lender then went into a phone calling sabbatical with what seemed the DPC, and other high-ranking officials. "This made us believe that he was in the good books with some of the best security top brass."
"He then informed us that he had been advised by the RPC of Kawempe Police station to drive the car to the station with us in tow for a meeting." It is in this meeting that the RPC requested to be availed the photographs of the suspects. As he was doing this, Lubega casually begged leave of the meeting. The RPC then sent a chilling revelation to all and sundry. The lady in the picture (Jamilah) was his sister. Shocked to the core, he made calls to his relatives, inquiring if Jamilah had been engaging in such deals. Whoever he called confirmed to him that indeed, Jamilah had long turned into a Mfere. "In our presence he said that he was going to arrest her and asked us to return with the officer at Kabalagala Police station working on our file."
The story at Kawempe ended with the RPC delegating someone to handle the matter. Before filing this piece yesterday, the vehicle had been transferred to Kabalagala where, the OC CID was again trying to complicate issues.
Author Profile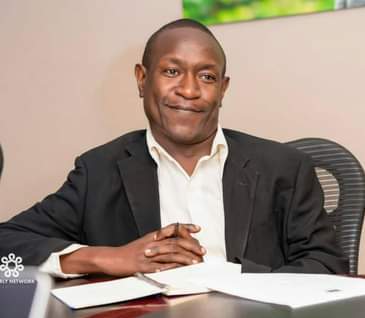 Mr. Jacko David Waluluka is another unique entertainment and general investigative news writer, a field he has diligently covered for over fifteen years. He's also the Chief Administrator at The Investigator. He can easily be reached via [email protected]